Author: Tosh Lubek Published: 4th February 2022
KitchenAcorns.com is supported by its readers. Please assume links on this site are affiliate links or ads, and that I get commissions for purchases made through these links. As an Amazon Associate, I earn from qualifying purchases. Thank you if you use any of the links.
When looking for the perfect Hong Kong-style bubble waffle maker, there's a lot of choice. But it is important to choose the best waffle maker for you and your family to ensure that it matches your specific needs.
Later in this article, I'll explain why bubble waffles are also called egg waffles, how you cook and eat them, and consider what they taste like. I'll also discuss the best toppings for bubble waffles and provide details on how to make allergen-friendly bubble waffles.
So, without further ado, here are the 5 Best Hong Kong Style bubble egg waffle makers.
Best Bubble Egg Waffle Makers
MasterChef bubble waffle maker
StarBlue electric Hong Kong Egg Waffle Maker
ALDKitchen bubble waffle maker
Health and Home 3-in-1 waffle, omelet, and egg waffle maker
StarBlue Bubble Waffle Maker Pan
12.2 x 9.33 x 5.75 inches
11.69 x 5.24 x 9.06 inches
ALDKitchen bubble waffle maker
Health and Home 3-in-1 waffle, omelet, and egg waffle maker
Best electric bubble waffle maker
MasterChef electric non-stick bubble waffle maker
MasterChef non-stick Bubble Waffle Maker
• Creates bubble shaped waffles in under 5 minutes
• Easy-lock closing mechanism
• Power indicator light
• Nonstick plates for easy food release and fast clean up
• FREE recipe guide
• MasterChef quality product

The MasterChef electric non-stick bubble waffle maker is the best electric waffle pan. It was released by MasterChef only three years ago, and as such, it is one of the best models on the market.
It comes with non-stick cooking plates, ensuring effortless food release and fast cleanup, and flips 180 degrees to fully coat the inside with batter. All of this results in a smooth, sweet, and chewy inside, and a crispy golden outside.
Featuring a power indicator light and an easy-lock closing mechanism, this is a great waffle maker for both beginners and experts alike. It warms quickly and is easy to use, with clear instructions and great customer service.
MasterChef also has many useful online cooking guides detailing how to use this electric bubble waffle maker, meaning that when you buy this bubble waffle maker you get the whole package. What more is there to love?
A reassuring aspect of this bubble waffle maker is that it is from the Master Chef TV series brand. Clearly, such a well-known and respected brand would not wish to produce or be associated with a poor-quality product. So, you can buy with confidence. This waffle maker will produce great bubble waffles and last a long time in your home kitchen.
Best electric bubble waffle maker Honorable mention
StarBlue electric Hong Kong Egg Waffle Maker
Sale
You may have noticed that the StarBlue electric Hong Kong Egg Waffle Maker looks uncannily like the MasterChef bubble maker mentioned above. Are they the same but with different branding? I'll let you decide.
The StarBlue electric Hong Kong egg waffle maker comes with a free recipe guide, making this a great way to learn the ins and outs of waffle-making. It makes it simple to make Hong Kong style bubble waffles at home, with a symmetric hexagon waffle pan that ensures perfect results every time.
The appliance has non-slipping feet on the top and bottom so you can flip the waffles halfway through cooking. Not only do the feet prevent the waffle maker from slipping but they also ensure the waffle maker remains level when you flip it over. The flipping of the waffle maker is a little more awkward than the bulkier flip type that spin, but it does make it more compact and takes up less space on the counter.
It has non-stick plates making it easy to both pour in the mixture and clean up afterwards. The pan comes with a power indicator light to let you know when the waffle maker is ready to use, and it heats up quickly, wasting none of your time.
It is because of this that the waffle maker can quickly cook large amounts of bubble waffles, making it the perfect way to share breakfast with friends and family. This Hong Kong bubble waffle maker is also compact, making it easy to store, and therefore it is ideal for the busy family home.
This is also one of the closest bubble waffle makers to those used in Asia, making it a more authentic experience! So, if you want your bubble waffles to be just like the real thing, this is the waffle maker for you.
Best professional waffle maker
ALDKitchen bubble waffle maker
Sale
ALDKitchen Hong Kong Bubble Waffle Maker
• Professional grade – made from 201 stainless steel
• Durable construction with improved thermostat (50-300 °C)
• Large waffle size
• Fast cooking time of only 3 minutes
• Great customer support, flexible returns policy and a money-back guarantee

The ALDKitchen bubble waffle maker for egg puff and Hong Kong waffles is the best professional option, for several reasons.
Firstly, this professional-grade waffle maker is corrosion-resistant and made from top-quality 201 stainless steel. This significantly increases the lifespan of the device, ensuring that it will last for many years
You can purchase this waffle maker either as an electric single or a double iron, just as a mold, or as a gas waffle maker. All of these heating options come with a durable manual thermostat, that provides a temperature range of between 120°F (50°C) and 575°F (300°C).
Being able to just buy the mold makes this professional waffle maker ideal for high-volume waffle production since you do not need to replace the whole machine if the mold becomes worn out or damaged.
The ALDKitchen bubble waffle maker is also a great option for creating savory waffles, as the mold has relatively large bubbles. This means that you can stuff it with vegetables without any leaking or overspilling.
To bake one soft and crispy bubble waffle will only take you three minutes, meaning that you can serve the waffles quickly. This means that production time is reduced, and the number of satisfied customers can increase, along with the profit.
Of course, you don't have to use this bubble waffle maker only for business, it will also be a very durable kitchen appliance in your home, producing hexagonal waffles about 7″ x 8″ in size.
It's great for use at home with your family, and for commercial use in your restaurant, cafe, or shop. It is equipped with wooden handles for comfort and safety, a non-stick coating, and a 360-degree rotating mechanism, making it one of the best waffle makers on the market.
Best multi-purpose waffle maker
Health and Home 3-in-1 waffle, omelet, and egg waffle maker
Health and Home 3-in-1 Waffle, Omelet, Bubble Waffle Maker
• 3 Removable nonstick baking plates for easy cleaning and versatility
• Unique Locking Clip design for even batter distribution and less leakage
• Power indicator lights, including ready to cook light
• Brushed stainless steel exterior.
• Slip-resistant feet.
• Professional style 360°rotating design with turning handles

The best multi-purpose waffle maker is the Health and Home 3-in-1 waffle, omelet, and egg waffle maker.
Made from stainless steel, this is a high-quality waffle maker that is sure to last a long time. It comes with a unique 'locking clip' design so that the batter stays firmly within the mold, along with offering even distribution of the waffle batter. This ensures a bubble waffle that has a soft inside whilst not compromising on a crispy golden outside.
The handles are ergonomic which results in easy turning, and the pan also comes with a detachable baking plate.
The three baking plates can easily be disassembled, each being non-stick and easy to clean. The first plate is for creating conventional waffles, the second is for omelets, and the third is for the Hong Kong style bubble waffle. This means that you have plenty of options for both a sweet and savory breakfast and will never run out of ideas! Having removable plates also makes cleaning easy, and will save space in your kitchen, since it is three appliances in one.
Best stovetop
StarBlue Bubble Waffle Maker Pan
Sale
StarBlue Bubble Waffle Maker Pan
• Cast aluminum alloy construction with Teflon coated cooking plates
• Heat-resistant cool touch stainless steel handles with plastic shells
• Fixed bracket design for easier opening and closing
• Safe for gas stovetop use
• Non-rough and non-stick surface for easy cleaning
• Comes with a recipe eBook and tongs

The best stovetop waffle maker is the bubble waffle maker pan by StarBlue. One of the best bits about it is that is also comes with a free recipe eBook and tongs, making it the perfect beginner waffle maker.
It is made from cast aluminum alloy with advanced Teflon coating, meaning that this eco-friendly bubble waffle maker is both food-grade and durable enough to last you many years.
It has non-stick plates and heat-resistant stainless-steel handles with plastic shells, making it easy to use the waffle maker whilst the batter cooks. It can also cook waffles in three minutes, making for an especially speedy breakfast!
This waffle maker comes with a fixed bracket design, which makes it easy to open and close, and it is safe to be used on a gas stovetop. This makes it great both for commercial use and for use at home.
This waffle iron's non-stick coating makes it easy to clean, and afterward, you can even hang it from a wall kitchen hook for storage, although you can of course put it away in a cupboard.
With the StarBlue bubble waffle maker, you can make classic egg waffles, vegan gluten-free waffles, pandan waffles, and egg waffle ice cream cones.
Frequently Asked Questions
What is a bubble waffle?
Bubble waffles are a street food across Hong Kong, Macao and Thailand which are recognizable by their egg shape and taste. They are typically served in a paper container, curled, and then filled with whipped cream, fruit, or ice cream.
You will often find these waffles in roadside stalls and boba shops, but it is becoming more and more popular to serve this dessert at restaurants and cafes. Even some high-class Michelin star establishments sell bubble waffles!
Why is a bubble waffle also called an egg waffle?
Bubble waffles are called "gai daan jai" in Cantonese, meaning "little chicken egg". This is because the waffles were invented in the 1950's by grocery shop owners who were unable to sell their broken eggs. Rather than waste the eggs, they would add them to a batter to create the bubble waffles – and they were a hit!!
Created by adding milk, flour, and sugar to the eggs, when cooked in a bubble-shaped iron machine these bubble waffles also take on the appearance of small eggs or bubbles.
What is the difference in how you eat waffles and bubble waffles?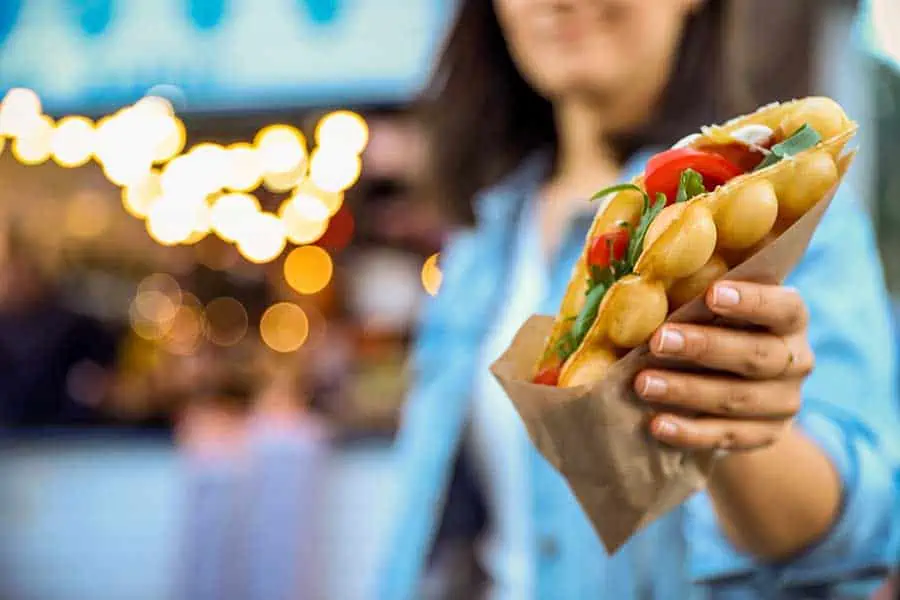 The main difference between normal waffles and bubble waffles is how you eat them. Normal waffles are typically flat, with the toppings placed on top of them. Although bubble waffles can also be eaten flat, served on a plate, their street-food origin means they are commonly held in the hand.
With a savory filling, fold the bubble waffle over the filling to form a sandwich-like food. Or, if you're cooking for two, put your filling between two bubble waffles and cut it in half or quarters. But the more common way to eat a bubble waffle is to roll it into a cone shape, then fill the cone with your favorite toppings. You don't need a cone mold to roll the bubble waffle around, forming the cone is easily done by hand, although you may wish to place the bubble waffle cone into a holder to keep the shape. You can use a mug, paper cup, or even a sundae glass to hold the cone.
An alternative way of using the bubble waffle is to thinly spread your filling or toppings over the waffle and then roll it up.
Whichever way you use the bubble waffle the toppings you can use vary, but bubble waffles are most likely served with ice cream, fruit, chocolate, or syrup. It's not normal to serve savory fillings in a cone-shaped bubble waffle, but no one will stop you from eating it your way.
Bubble waffles can also be broken apart into small, sweet balls which look somewhat like eggs. Pile them onto a plate, then cover them with your favorite toppings and a good amount of whipped cream or ice cream for a perfect dessert.
I also like these waffles broken into individual balls and sprinkled with powdered sugar. Served this way they make a less greasy snack alternative to mini donuts.
What does a bubble waffle taste like?
Bubbles waffles taste like a sweeter, slightly eggier, and lighter version of American waffles, oftentimes with hints of custard. Sometimes, they have extra fillings on the inside, such as fruit.
They are a sweet treat that can be served at breakfast, or as an after-dinner snack. They are crispy on the outside and soft and light on the inside. The perfect bubble waffle is also slightly chewy, which is an easy feature to replicate with a good bubble waffle maker!
How do you cook soft egg waffles?
It is easy to cook soft egg waffles using your bubble waffle pan. All you need is to follow the following steps:
Brush the waffle pan with a little oil (canola oil is recommended)
Set the pan over medium heat
Once the bubble waffle pan has warmed, pour in half of the batter
Attach the waffle pan lid, close, and flip over
Cook for 1 minute and 30 seconds each side or until golden and crispy on the outside
Remove the waffle from the pan and put to one side
Roll into a cone shape
Add any toppings you desire
Your waffles are ready to go!
How to prevent batter coming out from between the bubble waffle plates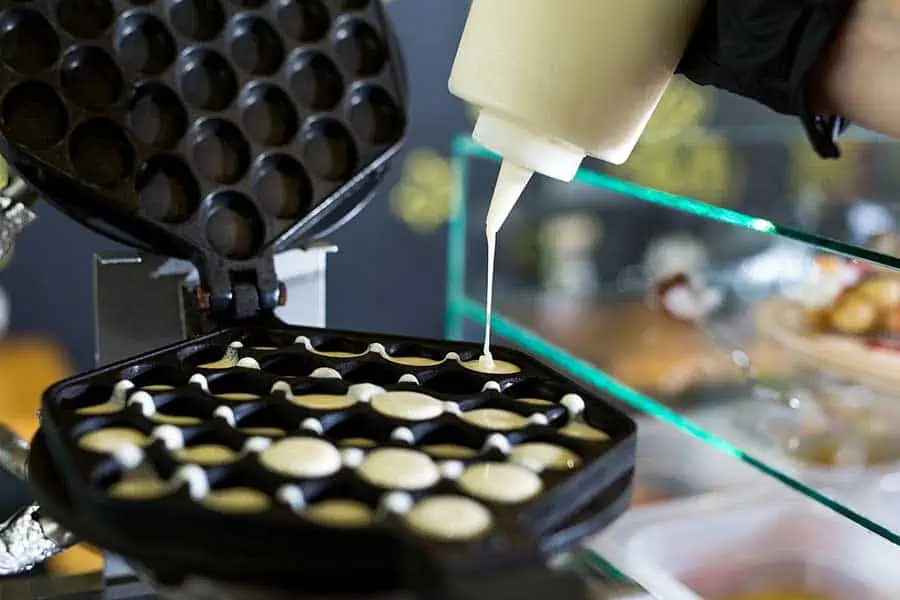 You need to make sure as much of the waffle batter goes into the bubble-shaped mold and not on the grids in between, although a little batter spillage won't matter.
The easiest way to do this is to have the batter in a kitchen measuring jug and pour the batter into each section of the mold. Alternatively, put the batter into a squeeze bottle, that way you can control the pour, eliminate drips, and keep the batter safe from being knocked over.
How to make allergen-friendly bubble waffles
It is easy to make allergen-friendly bubble waffles with the above waffle makers, as all you need to do is alter the recipe.
To make gluten-free bubble waffles, you need to replace the flour in the recipe with something which can bind to the milk and the egg. Some good alternatives are almond flour, psyllium husk, flax seed mill, and rice flour.
To make lactose-free bubble waffles, all you need to do is replace the milk with an alternative such as soya milk, oat milk, or cashew milk. When incorporating lactose-free alternatives into the recipe, be aware that they are typically thinner than normal milk, so you should add a small amount of extra flour.
To make vegan-free bubble waffles, you need to use a milk alternative and an egg alternative. Some good examples of egg alternatives are bananas, sweet potatoes, applesauce, and avocado. Depending on your flavor preference and the vegan alternative used, you will either need to use more or less sugar than the recipe states.
To make a sugar-free bubble waffle, switch out the sugar for honey, agave nectar, date paste, monk fruit extracts, or stevia. Coconut sugar can also be used as a good alternative, although it can sometimes be very coarse and will need to be ground with a blender or food processor before using it.
What are the best bubble waffle toppings?
The best thing about bubble waffles is that the topping combinations are endless! It can be a lot of fun to experiment with the flavors and the fillings, and you will never run out of exciting ideas. Some of our favorite sweet toppings are:
Peaches and honey
Forest fruits and yogurt
Marshmallows, chocolate, and cream
Buttercream sugar and sprinkles
Syrup and strawberry
Peanut butter and jelly
Lemon curd with lime shavings
Whipped cream and chocolate syrup
Mint ice cream with chocolate
Savory bubble waffles are also starting to become more popular, and some great topping ideas can include fried eggs, bacon, smashed avocado, cream cheese, salad, or bruschetta. Pair with some hash browns and a glass of orange juice, and you've got the perfect brunch meal!
Tosh learned how to cook while watching his Polish Mom at home. He also worked in a family-owned restaurant while a student and learned much from the chefs. Cooking has always interested him, especially the hearty Polish recipes he learned from his mother. He has helped create and appeared on cookery shows on radio stations in Scotland.
Recent Posts