Author: Tosh Lubek Published: 28th January 2022
KitchenAcorns.com is supported by its readers. Please assume links on this site are affiliate links or ads, and that I get commissions for purchases made through these links. As an Amazon Associate, I earn from qualifying purchases. Thank you if you use any of the links.
Introduction
If you are eager to make stroopwafels, but you don't have a Pizzelle iron, you might be wondering if it's possible to make them without. Fortunately, it is! If you have a grill press and a griddle, you need nothing else at all, and the process should still be quick and easy.
Today, we're going to look at how to make stroopwafel if you don't have a Stroopwafel maker or a Pizzelle iron. You can sample and enjoy this amazing Dutch treat, even if you don't have the correct kitchen appliance. I suspect you'll really like them and decide to invest in a proper Stroopwafel maker or Pizzelle iron so you can repeat this recipe and make it even more authentic.
What Is a Stroopwafel?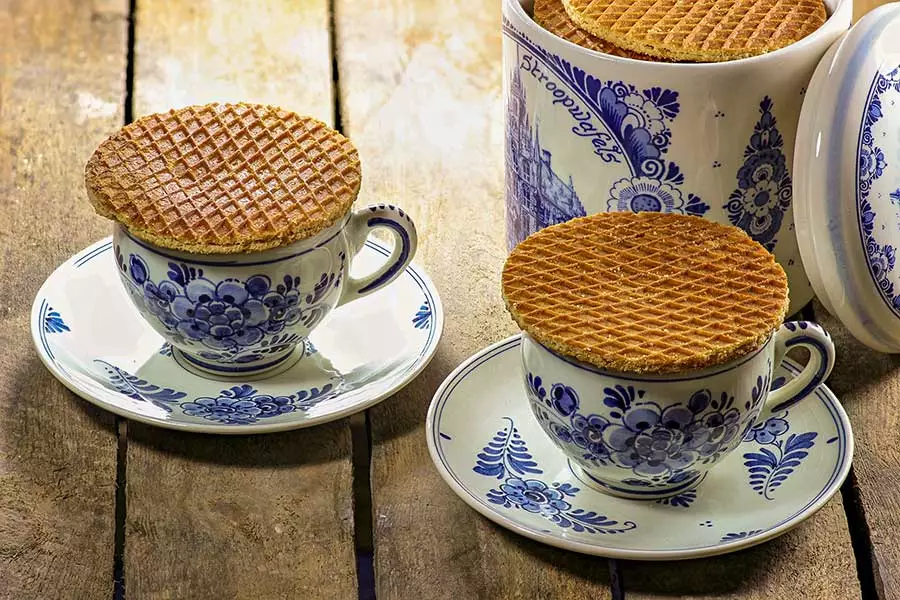 Originally from the Netherlands, a Stroopwafel is a double layer of dough, with a caramel filling. It is baked, creating a deliciously crispy and crunchy cookie with a delightfully sweet cinnamon flavored caramel filling.
These cookie-like waffles are usually baked using a special Stroopwafel maker or Pizzelle iron, but if you want to have a go at making them yourself at home, that may not be an option. Fortunately, it's easy enough to improvise, using a griddle and grill press.
Your Stroopwafel may not look exactly like they do if you were to buy authentic ones made in the Netherlands, but they should taste pretty close. Once you've tried these lovely treats you can get even closer to the authentic look by getting a proper Stroopwafel maker or Pizzelle Iron (more on this later in the article).
These homemade Stroopwafels make a wonderful Christmas treat, and they're perfect for gifts and special occasions.
Don't worry that your homemade version doesn't look like the perfect ones you can buy in shops or online, those are commercially machine made.
Stroopwafel With Dark Caramel Sauce Recipe
This recipe will make a dozen Stroopwafels and involves two parts, the dark caramel sauce filling and the baked waffle shell that forms the outer part of the Stroopwafel.
Although cinnamon is used as a flavoring, you can use vanilla extract, almond essence, or other flavorings if cinnamon isn't your favorite.
Ingredients to make 12 Stroopwafels
As well as a grill press, you are going to need the following ingredients:
4 Cups All-Purpose Flour
1 Cup White Sugar
1 Cup Butter (melted)
¼ Cup Milk or Water (lukewarm)
1 Large Egg
1 Tsp Ground Cinnamon
4 Tsp Instant Rapid-Rise Dry Yeast
These are for the outside of the Stroopwafels. You are also going to need ingredients to create a caramel filling, as follows:
1 Cup Brown sugar
2oz Butter
1½ Cup Dark corn syrup
1 Tsp Ground Cinnamon
You can use either salted or unsalted butter for this recipe. If you are using unsalted, consider adding a small pinch of salt, but this is not crucial. However, salted caramel seems all the rage these days, and with good reason. The sweet and salt combination is really nice.
Method – Making Stroopwafels without a Stroopwafel maker or Pizzelle Iron
I recommend using an instant rapid-rise dry yeast, such as Scratch Gold Instant Rapid-Rise Dry Yeast, since it does not require activation and it can be mixed straight in with the other dough ingredients. But if you only have regular dried yeast you will need to activate it. If this is the case, do it now, otherwise go to Step 1 of making the waffle dough.
Activating non-instant Yeast
In case you missed the previous paragraph. You only need to do this step if you are NOT using an instant rapid-rise dry yeast.
In a small bowl, or even a large mug, mix together a little lukewarm milk or water, the yeast, and a teaspoon of sugar. Cover with a cloth or saucer (cup plate) and set aside somewhere warm for 30-45min. Once activated the yeast mixture should have increased in volume and be frothy.
Making the Waffle Dough
In a large bowl add the all-purpose flour, white sugar, melted butter, milk or water, whole egg, instant rapid-rise dry yeast, and ground cinnamon.
Mix the ingredients together with a wooden spoon until they are fully combined.
Sprinkle some flour onto a work top, on to which you can turn-out the dough mixture.
Knead the waffle dough for a few minutes to bring everything together and until you have a smooth ball of waffle dough.
Place the waffle dough into a floured bowl, cover with a kitchen towel, and leave in a warm place for around 45min. Do not expect it to rise much, and certainly nowhere as much as much as a bread dough. While you are waiting for the dough you can make the caramel filling.
Making the Caramel Filling
Place the brown sugar, butter, and corn syrup into a medium pan, then sprinkle on the cinnamon.
Place the pan over a medium heat. It's important to keep stirring the ingredients gently until all the sugar has dissolved into the syrup and the mixture is gently bubbling.
Stirring regularly, let the mixture cook for up to 5 mins, until you have a beautifully smooth caramel sauce.
Take the pan off the heat and set it aside to cool for when it is required to fill the stroopwafels.
Cooking the Stroopwafels
It's now time to cook the waffles, so heat up your griddle to a medium heat and lightly grease your grill press.
Divide the dough into 12 pieces and shape them into balls by rolling then between the palms of your hands. Each ball should be about 2 inches in diameter.
Grease the griddle and place one ball of waffle dough in the middle. Use a griddle press, that has also been greased, to lightly press it down to spread the dough across the hot metal of the griddle. You're aiming to make a roughly 4-inch circular waffle.
Leave the waffle for up to sixty seconds, then use a turner or a spatula to flip it over and press the uncooked side down against the hot metal. Give it another thirty seconds of cooking, and then lift it off and set it aside on a rack to cool.
If you were using a Stroopwafel maker or Pizzelle iron you would wait until you no longer see steam escaping from the edges of the grids.
Repeat the steps until all 12 balls of waffle dough have been cooked.
Assembling the Stroopwafels
Once the waffles have cooled, you will need to fill each one with a small amount of the caramel filling. on half of the stroopwafel. Slice it in half and press the plain side onto the filled side to make a delicious waffle sandwich.
If you want a more traditional looking Stroopwafel follow these steps.
Trim each waffle to a perfect circle using a 4-4 ½ inch metal pastry cutter.
Slip the point of a sharp kitchen knife into the edge of the waffle, working round to split the waffle into two circular halves.
Spread about a tablespoon of caramel filling on one half of the waffle (the inner side) and cover with the other half of the waffle. You can heat up the caramel filling slightly to make it more spreadable.
Do Stroopwafels Taste Good?
These waffles are a wonderful wintry treat, in fact, they taste good any time of year. The cinnamon and brown sugar create a sweet, flavorful filling, and the waffle dough makes a delightfully crispy exterior. They are also reasonably quick and easy to make yourself, and you don't have to spend hours waiting for the yeast to rise (remember, to use an instant rapid-rise dry yeast).
They are somewhere between a cookie and a waffle in terms of their texture and taste. You could almost imagine them as something like a Belgian waffle with caramel and cinnamon for the topping.
They are easier to eat than a waffle, and you don't have to serve them straight from the griddle to have them taste good. They'll keep fresh for a few days in a air-tight container, especially when kept in the refrigerator.
Should You Serve Stroopwafels Hot?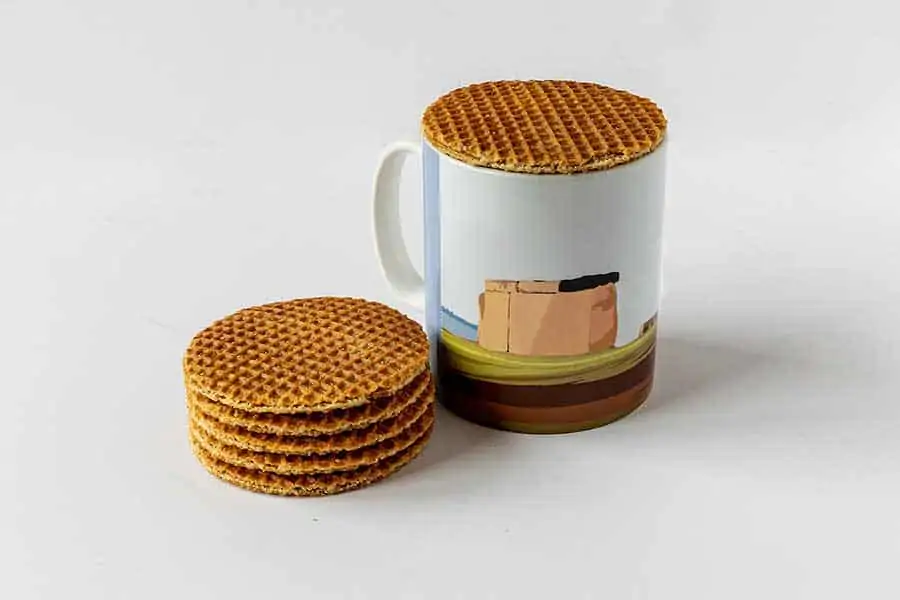 Unlike traditional waffles, stroopwafels do not tend to be served hot. Instead, they are placed on top of a mug full of hot coffee, chocolate, or tea. The steam and heat will rise and gently warm the waffle just a little, softening the caramel filling, making it pleasantly soft and gooey.
If you're having the Stroopwafel at around Christmas time, any warm winter drink will do, particularly coffee, warm apple cider, or mulled wine. However, you can also experiment with other hot drink options, so whatever your go-to winter warming drink is, try it with alongside one or two stroopwafels.
Can I Cook Stroopwafels Without a Griddle?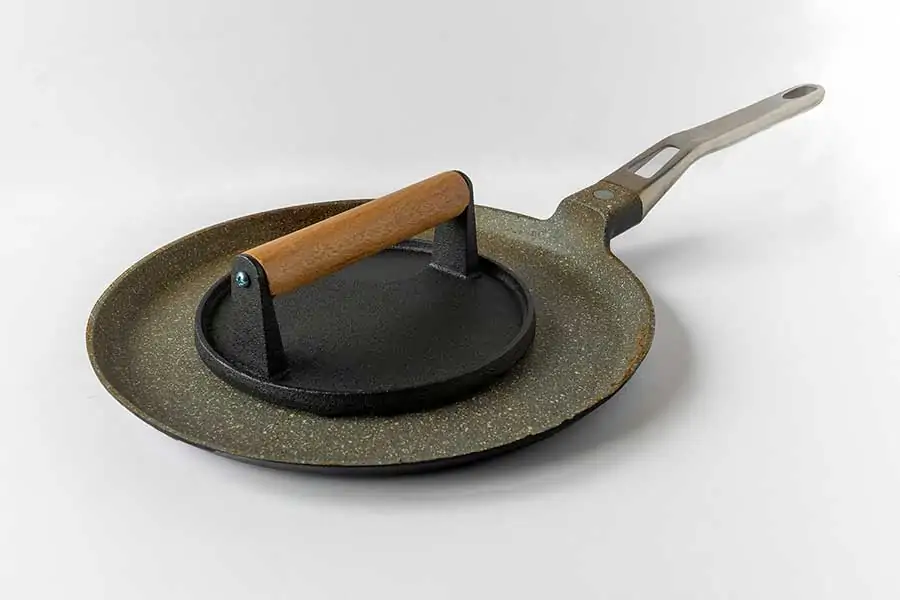 Unless you get a stroopwafel maker (see below), no, not really. However, even using a griddle and grill press won't produce the truly authentic shape or thickness of a shop bought Stroopwafel.
You could try cooking them in a skillet, but you probably will not have much success. These waffles really need to be pressed against a hot griddle if they are going to have the right texture. A skillet may not provide such a good cooking surface, and the waffles may be disappointing and stodgy.
There is no harm in trying if you really want stroopwafels and you do not have a griddle or other option (see below), but you should be prepared for the waffles to taste a little different. They will probably fail to puff up as nicely, too, so the end result may be disappointing.
How Can I Get a Stroopwafel Maker or Pizzelle Iron
Stroopwafel makers are not a common kitchen appliance in America, which is why I suggest using a griddle and grill press. However, if you want to regularly make these Dutrch waffles I have found a suitable stroopwafel maker on Amazon, as well as a waffle cone maker and pizzelle iron that can also be used.
Can I Reheat Stroopwafels If I Prefer Them Hot?
Yes, it's easy enough to reheat a stroopwafel. If you would rather not put them on top of a warm mug, put them on a microwave-safe plate and give them fifteen seconds on medium power in your microwave.
Check that they have warmed nicely, and then enjoy them. It is best to only reheat them once, so only do as many are you will eat in one go and leave the rest.
Do Stroopwafels Keep Well?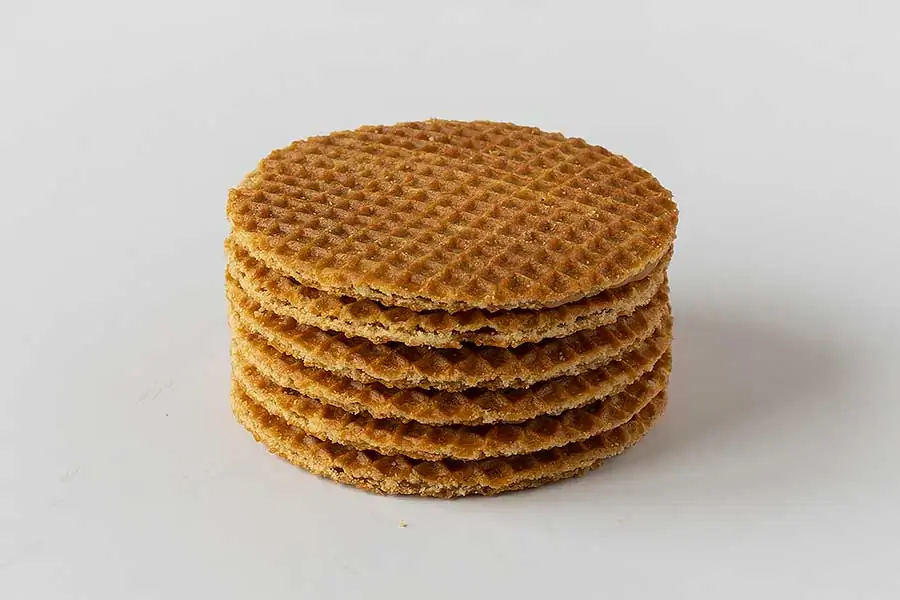 If you are thinking of making these waffles as gifts or if you just want a big batch tucked away in a cupboard for Christmas, it's important to know how well they keep.
You have the option of storing them at room temperature in an airtight container for up to a week, or in the fridge in an airtight container for a week.
Do not store the waffles in a breathable container, because they will very quickly go stale. Instead, put them in a sealable tub or a bag and make sure that it is always shut properly after a waffle has been taken out.
If you would prefer to keep the stroopwafels for longer, you can wrap them up tightly, put them in an airtight container, and freeze them. They should keep for up to three months like this, but after that time, you might notice the quality deteriorating. It is best to make a fresh batch at this point.
Do double-wrap your stroopwafels in the freezer – put them in a Ziploc bag and then a container if possible. This will help to keep them fresher for longer.
Conclusion
You can make stroopwafels without a Stroopwafel maker or Pizzelle iron, but the results are best if you use a griddle and a grill press (or one of the alternatives, such as a waffle cone iron). These caramel waffles from the Netherlands are a wonderful way to bring Christmas to your home with a warming winter treat.
You can make variations using vanilla extract, almond essence, and other flavorings if cinnamon isn't your favorite, so play around and make this recipe your own!
You might also like…
Tosh learned how to cook while watching his Polish Mom at home. He also worked in a family-owned restaurant while a student and learned much from the chefs. Cooking has always interested him, especially the hearty Polish recipes he learned from his mother. He has helped create and appeared on cookery shows on radio stations in Scotland.
Recent Posts