Author: Tosh Lubek Published: 22nd January 2022
KitchenAcorns.com is supported by its readers. Please assume links on this site are affiliate links or ads, and that I get commissions for purchases made through these links. As an Amazon Associate, I earn from qualifying purchases. Thank you if you use any of the links.
Waffles are simple, quick-to-make meals with a light, fluffy center, and a golden crust on the outside. Sweet syrups or jam are poured over the top for textural variety and a delicious flavor combination. But with most recipes set up to serve two or more, how do you make waffles for one?
On average, the easiest way to adjust a waffle recipe to make one person servings is to divide the recipe by the original number of servings. For example, if the recipe yields two servings, all ingredients will need to be halved to produce a single serving.
When a waffle craving hits, it feels silly to mix an entire six-serving recipe for one person. Keep reading for the best way to change a regular waffle recipe to a one-person serving, and what to do when an ingredient can't be divided.
How Many Servings Is a Typical Waffle Recipe?
While the number of waffles created using a waffle mix is going to vary by brand, typical mixes yield between four and six servings by using about 2 cups of premade waffle mix.
Taking Krusteaz Light and Crispy Belgian Waffle Mix as a specific example, 1½ Cups (7oz) of the Krusteaz mix (plus 2/3 Cup of water, 1 whole egg, and 1 Tbsp of oil) will make two or three 7-inch round waffles.
If you are planning to go the homemade route and make your waffle batter from scratch, most recipes use a combination of 2 cups of flour, 2 eggs, 2 teaspoons of baking powder, 1½ cups of either milk or water, and ¼ to ½ cup of oil. Other flavoring ingredients such as vanilla, sugar, salt, and spices vary.
These recipes work great for those cooking for a family, but what if four servings are too many?
Krusteaz Light & Crispy Belgian Waffle Mix No Artificial Flavors, Colors, or Preservatives 28 Ounce (Pack of 2)
DELICIOUSLY LIGHT: Take your taste buds on a trip abroad with Krusteaz Belgian Waffles. Enjoy the crispy outside and the warm sweet inside of a perfect, golden brown Belgian waffle.
EASY TO MAKE: Add eggs, oil, and water to your mix. Whisk away, drop batter onto your waffle iron, then wait until your waffle is a glowing golden brown.
MAKE IT YOUR OWN: Waffles are the perfect food for true makers. Whip up an amazing brunch with Belgian waffles, whipped cream and berries. Or use our waffles as a taco shell or bread for a savory sandwich. Make waffle art by building log cabins or sculptures. The only limit is your imagination.
INGREDIENTS WE'RE PROUD OF: Krusteaz Belgian Waffle Mix is made with no artificial colors and no artificial preservatives.
WHAT'S INCLUDED: Every order of this waffle mix includes two, 28-ounce boxes with a shelf life from production of 548 days. This box is great for keeping Krusteaz mix on hand whenever you crave it!
Can Extra Waffle Mix Be Stored?
So, what happens if you make a full serving of waffle mix but only cook up one waffle? Can the rest be saved for later?
Yes, you can keep waffle batter in the refrigerator. But you can't just leave it there for as long as you like. This is because most waffle recipes use eggs and beaten eggs spoil quickly.
In the refrigerator, beaten eggs can last 3 days on average. However, it is advisable not to exceed that point. Therefore, the ideal time to store waffle batter in the refrigerator is between two and three days.
If going down this route, find more details in my articles Can I Make Waffle Batter the Night Before?
Can You Freeze Waffle Batter?
If you're worried that you won't be able to use your waffle mix within two days, you could always freeze. Waffle batter can be kept frozen for up to a month because the lower temperatures prevent bacteria from entering and spoiling the eggs.
However, this isn't the most ideal method. Waffles are typically quick and easy to make. If you are using frozen batter, you will have to wait for it to thaw before pouring it into your waffle maker. This is a lot of work for just a single waffle. Besides, there are better options.
If you want to go down this route, you'll find more details in my article Can you freeze waffle batter?
Ways to Change a Waffle Recipe to A Single Serving
There are several reasons why you would wish to create a waffle recipe for one. Maybe you live alone or eat breakfast by yourself after the kids have gone to school. Perhaps you're the only one in your home who eats waffles. Maybe you just wanted a waffle and there's nothing else to it.
If you're craving a single waffle, a typical recipe isn't going to cut it—at least not without creating a lot of food waste. So how do you adjust the recipe to prepare just enough batter to fill the waffle iron once and yield one perfectly sized waffle?
The easiest way to do this is to divide the recipe by the number of original servings. So, if you have a recipe that yields four waffles, use one-fourth of each ingredient called for. Using the base ingredients we mentioned earlier, that would make our new recipe ½ cup of flour, ½ eggs, ½ teaspoon of baking powder, 6 tablespoons of either milk or water, and 2 tablespoons of oil.
EXAMPLE: Using Krusteaz Light and Crispy Belgian Waffle Mix
According to the instructions on the back of the box, you need one egg for every 1½ Cups (7oz) of the waffle mix. That'll make two or three 7-inch round waffles. But say you only want one 7-inch waffle?
No problem.
Let's start with the instructions on the box for two 7-inch round waffles.
1½ Cups Waffle mix
2/3 Cup Water
1 Egg
2 Tbsp Oil
Since this quantity will make at least two waffles, we divide the quantities by 2 to give the amount of ingredients for one waffle. Doing the simple math, the quantities are as follows.
¾ Cup Waffle mix
1/3 Cup Water
½ Egg
1 Tbsp Oil
TIP: If when you divide quantities the result is a non-standard cup measures (quarter, third, half, two-thirds, or three quarters) it may be easier to convert cup to tablespoon measures, where 1 Cup = 16 Tbsp. So, in your calculation, first multiply the cup measures by 16 to begin with the quantities in Tablespoon measures. In your final results fractions of tablespoons are easier to judge than fractions of a cup.
Although in the Krusteaz mix example for one waffle the amount for one waffle can easily be measured with standard cup measures. But let's see what the quantities would be in tablespoons. We only need to multiply the amounts for the waffle mix and water, since they are the only ones that are measured in cups. The quantities become…
12 Tbsp Waffle mix
5 1/3 Tbsp Water
½ Egg
1 Tbsp Oil
Although using tablespoon measures makes it easier to correctly scale down a normal recipe or the instructions on a premade waffle mix, there is one problem. What if you have ingredients that can't easily be divided, like eggs for instance?
Dealing with Adjusted Recipes that Require Less than one Egg
Sometimes you can't avoid needing less than a whole egg when you adjust the recipe so that it is suitable for one person. Fortunately, it doesn't have to be a problem. I have a few options for you, so you don't have to waste any ingredients.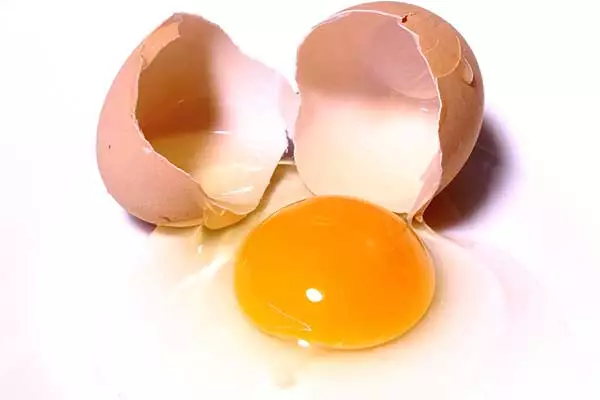 Adjust the amount of egg
The first option is to adjust the amount of egg in the recipe. If, like in the Krusteaz example, the modified recipe calls for ½ and egg, just use a whole egg. The worse that can happen is that the waffles will be slightly "eggier", but I've never really noticed much of a difference when I've adjusted back up to using a whole egg. It's always tasted fine.
Incidentally, I also round up with other ingredients. So, if the modified recipe requires 5¾ Tbsp of water it's easier to round up to 6 Tbsp.
Freeze the left-over egg
Nobody wants to waste food these days, so if you only need half an egg, freeze the leftover and use it next time. To do this you'll need to whisk the egg first, use half the quantity, then freeze the rest in a suitable container. I use ice cube trays with lids, they're available cheaply from Amazon.
The egg whites freeze well, although the yolks can be a little more trouble if left whole since they can become a bit syrupy. Since the egg has been whisked it freezes better and can be kept frozen for up to 12 months according to the FAIS.
Using Dried Whole Egg Powder
Using dried powdered egg is probably a better option than freezing left-over egg since it's quick and easy with no messing about. The powdered egg got a poor reputation during and after the second world war, but powdered egg is widely used in commercial food production, so it is highly likely all of us have eaten some. When used properly dried powdered egg is a useful ingredient to have in your kitchen.
Judee's Whole Egg Powder is a product I trust. It's made in America by a company that's dedicated to providing allergy-conscious ingredients. The powdered egg is gluten-free and can be used in nearly any baking or cooking scenario where whole eggs are required.
Using dried whole egg powder makes it easier to deal with fractions of an egg when subdividing the original recipe.
When reconstituting the dried egg mix 2 Tbsp dried whole egg powder with 2½ Tbsp of water to make the equivalent of one egg. When baking, mix the dried whole eggs into the flour and add the water into the wet ingredients.
Judee's Dried Whole Egg Powder - 11 oz - Baking Supplies - Delicious and 100% Gluten-Free - Great for Breakfast and Camping Meals - Quick and Easy for Outdoor Preparations
Gluten Free Egg Powder - Whether you're craving fluffy omelets or yummy baked treats, we know how busy your mornings can be. Judee's Powdered Eggs makes for the perfect breakfast essential - just add water to make delicious homemade meals
The Perfect Dried Whole Egg Powder - The dried egg mix is simple and easy to use; combine 2.5 tbsp water and 2 tbsp egg powder to create a fluffy omelet - it's that easy; use it as an egg substitute for nearly any backpacking or home cooked meal requiring eggs
Goodness in Every Bite - Our powdered egg mix is made in a dedicated gluten-free facility to ensure you are getting the best ingredients that taste delicious; contains no GMO or preservatives
Convenient and Nutritious - The powdered whole egg comes in an 11 oz standup, resealable pouch to ensure lasting freshness while providing you with more than enough powder when baking
Confidence From Scratch - At Judee's, we believe the most delicious baking starts with quality ingredients. Since 2009 we've been helping bakers with our great-tasting products - crafted with a sprinkle of love in every packet!
Using Egg Substitutes in One Person Waffle Recipes
The egg in waffles acts as a binder for the batter and contributes to the fluffy, airy interior. But it's not always simple to subdivide the amount of egg used in a dish—especially if the original recipe only calls for one egg.
While it is possible to use the same amount of egg that you would use in a normal recipe, this may yield an eggier waffle than you were hoping for. You could, on the other hand, use an egg substitute.
A substitute for egg in waffles is used often for a variety of reasons. For starters, many people are allergic to eggs or dislike egg dishes. You might also have dietary restrictions that prevent you from consuming eggs. Or maybe you're out of eggs or simply don't want eggy single-serving waffles.
1: Applesauce
Because it adds moisture and a touch of binding, applesauce works well as a replacement for eggs and oil in recipes. Mashed bananas also work, as do most fruit purees.
To use in waffles for one, substitute 2 tablespoons applesauce for ½ egg.
2: Ground Flaxseed and Water
A flax egg is another excellent alternative for waffles. This is made with ground flaxseed and water. Simply combine the crushed seeds with water for 15 minutes, and they will transform into a gel-like material that may be used as a binder in vegan baked products.
Combine ½ tablespoon ground flaxseed and 1½ teaspoon of water to make a ½ egg substitute.
3: Greek Yogurt or Sour Cream
Greek yogurt or sour cream are two traditional methods for adding moisture to baked foods. However, yogurt may also be used in lieu of an egg! If you're going to use yogurt, we recommend using plain.
In your waffle recipe, replace ½ egg with 2 tablespoons yogurt.
4: Nut Butter or Seed Butter
In waffles, any sort of nut butter works well as an egg alternative. You might also use seed butter, such as sunflower butter. This acts as a binder, holding the batter together, and adding a beautiful richness to the flavor.
In a single serving recipe, 1 tablespoon of nut butter can be substituted for ½ egg.
Final Thoughts
Cooking for one person can sometimes be very difficult to figure out. The easiest thing to remember is to divide the recipe by the original number of servings. When using substitutes, be sure to use the right quantity and take taste into account. If all else fails, you could always cook up all of the waffles and freeze them for future use.
Need a new waffle maker? See the excellent choice on Amazon
Tosh learned how to cook while watching his Polish Mom at home. He also worked in a family-owned restaurant while a student and learned much from the chefs. Cooking has always interested him, especially the hearty Polish recipes he learned from his mother. He has helped create and appeared on cookery shows on radio stations in Scotland.
Recent Posts