KitchenAcorns.com is supported by its readers. Please assume links on this site are affiliate links or ads, and that I get commissions for purchases made through these links. As an Amazon Associate, I earn from qualifying purchases. Thank you if you use any of the links.
Waffles are a relatively simple breakfast to make, and you can create almost endless variety to a waffle breakfast by adding many different fruits or other toppings. One of the most popular fruits out there is the banana, so it's no surprise that adding banana slices as a waffle topping is also a firm favorite.
There are good reasons to add bananas to your breakfast waffles other than that they taste great. They are packed with important nutrients that are beneficial for digestive and heart health, including fiber, and potassium, plus vitamins C and B6. For most people, eating one or two bananas daily is considered by many to be a moderate amount, so bananas really are a tasty, nutritious, and beneficial addition to your daily diet.
This article includes a step-by-step guide on how to make the best-tasting banana waffles, even if you've never made waffles before. I've included a short step-by-step guide on how to make the perfect banana waffles, plus a good helping of tips you can use to make your banana waffles extra tasty.
So, let's get into making some great waffles!
Banana Waffle Recipe Steps
So, what are the steps to making banana waffles?
They include:
☐ Gather your utensils and equipment
☐ Gather your ingredients
☐ Preheat the waffle maker
☐ Mix together the dry ingredients
☐ Mix together the wet ingredients
☐ Mix the wet ingredients into the dry ingredients
☐ Cook the waffles
☐ Add your toppings & Serve
Banana Waffle Recipe Ingredients and Method
This recipe makes four 7-inch round Banana Waffles and is very quick and easy to follow. Let's dive into each step below.
Step 1: Gather Your Utensils and Equipment
Before you can start measuring out your ingredients, you will need this list of utensils and kitchen equipment.
Now that you have all your utensils, let's move on to the next step, gathering the ingredients.
Step 2: Gather your Banana Waffle Recipe Ingredients
The next step in our recipe for making banana waffles is to collect together the ingredients. So, here is the list of ingredients.
☐ 1¾ Cup All-Purpose Flour
☐ 1/3 Cup White Sugar
☐ 1 tsp Baking Powder
☐ ¼ tsp salt
☐ 1½ tsp Ground Ginger (or other spice of your choice)
☐ 1 Banana (ripe or overripe are best)
☐ 2 Large Eggs
☐ 1 Cup Milk (any milk is OK)
☐ 1/3 Cup Vegetable Oil or Melted Butter
☐ 2 tsp Vanilla Extract
These are all the ingredients you need, but later in this article, I've also included a few suggestions for alternative ingredients.
Step 3: Preheat the Waffle Maker
Every waffle maker is slightly different, but it should be ready to start cooking waffles about 5-10 minutes after being switched on.
Select the temperature you like to cook your waffles at. The waffle maker's temperature dial set to Minimum or Low will be about 330°F and produce waffles with a light color. If you set the dial to Max or High that's equivalent to around 420°F and will produce waffles with a darker color.
While the waffle maker is preheating, make sure the two halves are closed. To test whether it has reached cooking temperature wet a couple of fingers and flick the water onto the hot cooking plates. If the water drops at once sizzle and evaporate, that's a sign that you're ready to start making waffles.
Step 4: Mix the Dry Ingredients
Step 4: Part 1
Put the dry ingredients into a medium or large mixing bowl. These include:
☐ 1¾ Cup All-Purpose Flour
☐ 1/3 Cup White Sugar
☐ 1 tsp Baking Powder
☐ ¼ tsp salt
☐ 1½ tsp Ground Ginger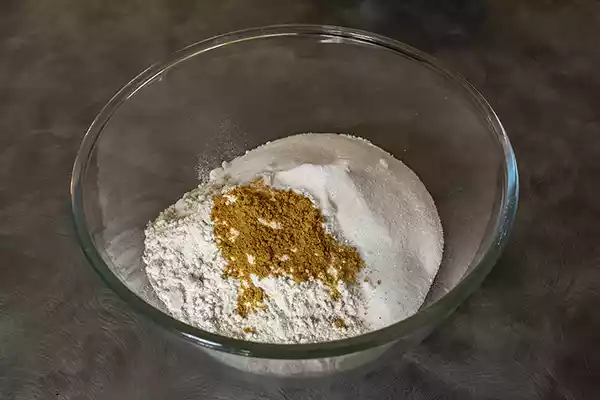 Step 4: Part 2
With all the dry ingredients in the bowl use a fork or spatula to mix the ingredients together, then set it aside for the moment.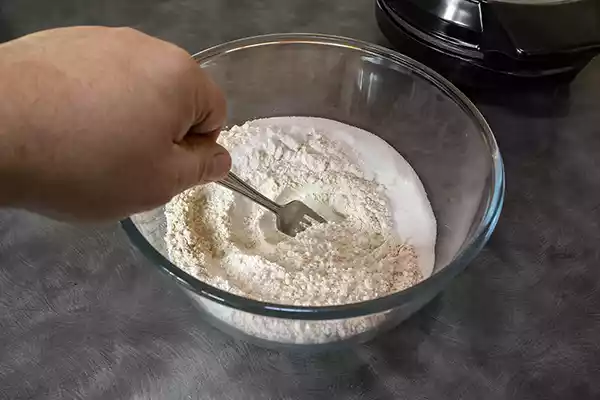 Step 5: Mix the Wet Ingredients
Next, you'll mix together the wet ingredients In a separate mixing bowl.
Step 5: Part 1
First slice the banana into the bowl. If the banana is overripe slicing will not be necessary and you can move on to mashing the banana.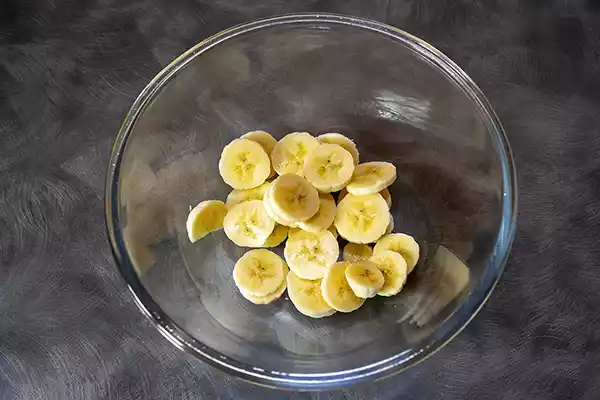 Step 5: Part 2
Use a string fork to mash the banana slices. The riper the banana the easier you'll find this is to do.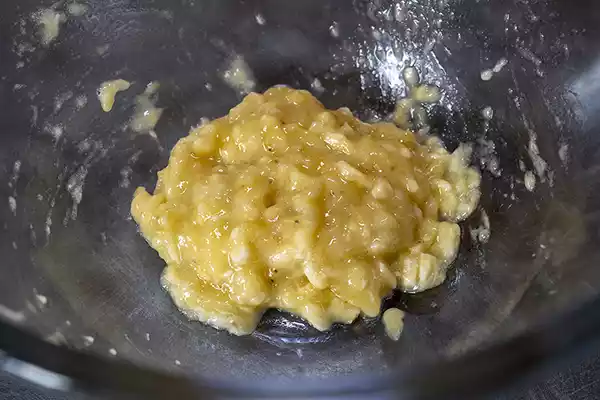 Step 5: Part 3
With the banana mashed add the milk.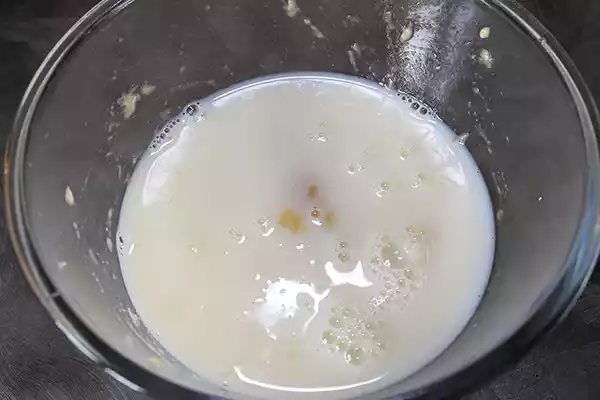 Step 5: Part 4
Add the vegetable oil or other neutral oil to the bowl.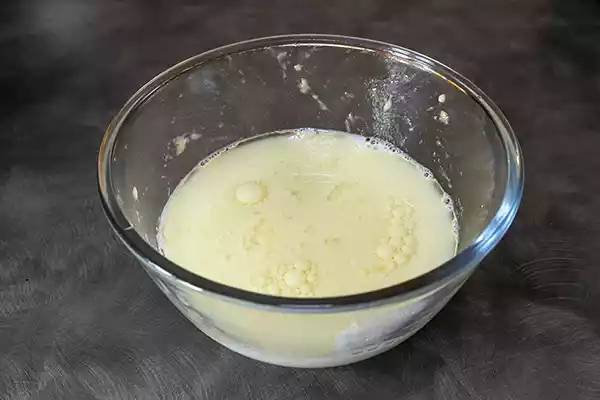 Step 5: Part 5
Crack two whole eggs into the bowl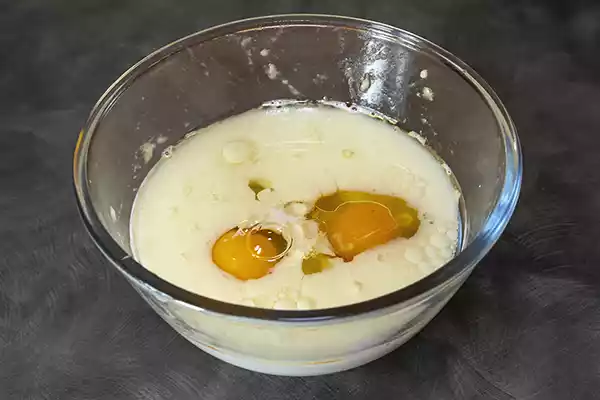 Step 5: Part 6
Add the vanilla extract to the wet mix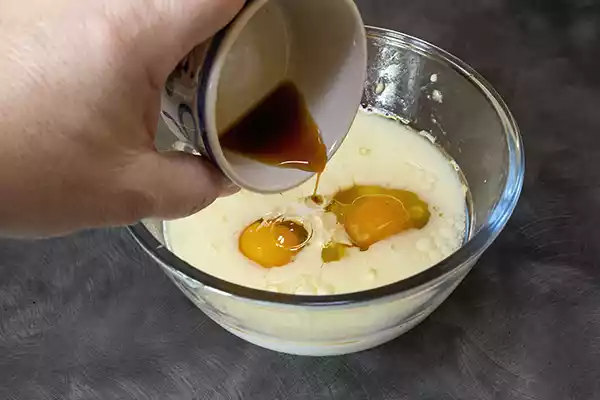 Step 5: Part 7
Using a whisk or electric hand mixer thoroughly blend the wet ingredients together.
Now that all the wet ingredients have been blended thoroughly blended together it's time to move on to the next step and combine the dry and wet ingredients together.
Step 6: Mix the wet ingredients into the dry ingredients
You should now have a bowl of mixed dry ingredients and a bowl of mixed wet ingredients.
Step 6: Part 1
The next step is to pour the blended wet ingredients into the dry ingredients.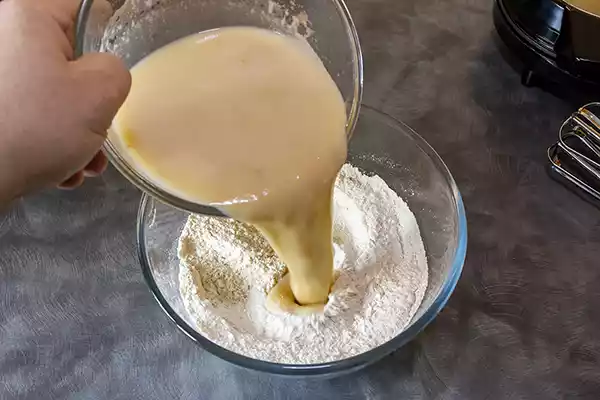 Step 6: Part 2
Using a whisk or electric hand mixer mix the ingredients together to form the batter. Do not overmix the ingredients, since this can develop the gluten content and make your waffle texture a little chewy.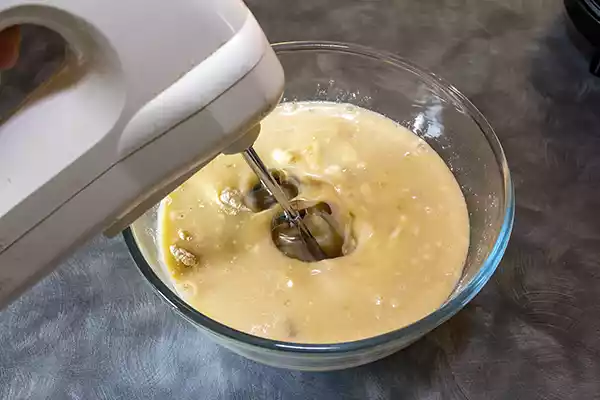 Step 6: Part 3
The batter should look fairly smooth, like in the next image. But don't worry if you have a few lumps here and there, just like a traditional waffle mix. Also, note that there are bubbles breaking the surface of the batter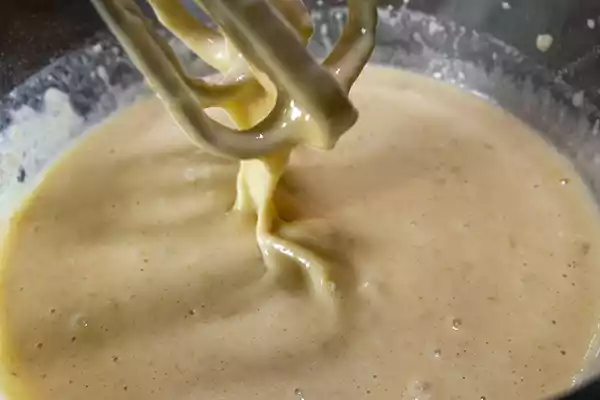 Some of these will be air bubbles that got mixed into the batter, but many will be the result of the baking powder starting to work and generating bubbles of carbon dioxide that will help the batter to rise and fill the waffle maker grids.
Step 7: Cooking the Waffles
When all of the ingredients are well mixed, grease the preheated waffle iron.
IMAGE OF GREASING THE WAFFLE PLATES
Step 7: part 1
I prefer to pour a teaspoon of vegetable oil on the bottom plate and then use a silicone pastry brush to spread the oil across the bottom and top grid plates. You may prefer to use a non-stick spray but be careful not to use a spray that may eventually form a gummy layer on the plates that is difficult to remove and eventually cause your waffles to stick.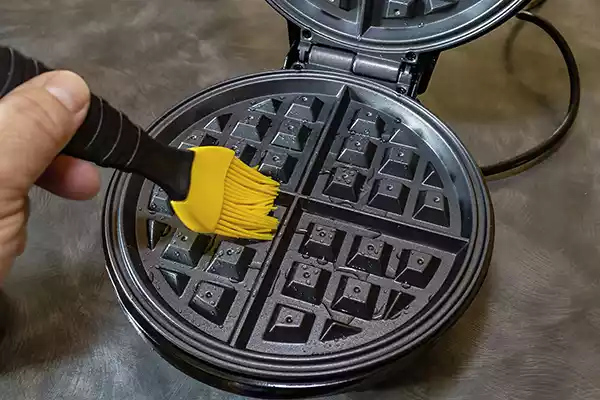 Step 7: part 2
Pour about a cup of batter into the center of your waffle maker and let it spread out a little. The batter does not necessarily need to fill the grids to the edges, so don't overfill the waffle maker. Doing so will cause the batter to ooze out the sides, creating more work for you at clean-up.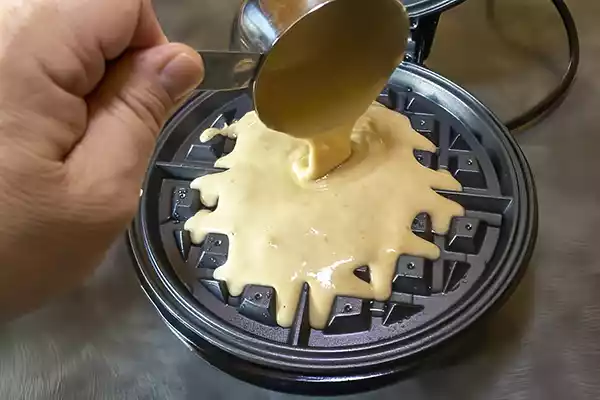 Step 7: part 3
Once the batter is in, do not wait too long before closing the waffle iron, otherwise, the top plate will cool slightly.
The cooking time should take about 5-8 minutes, depending on the temperature setting.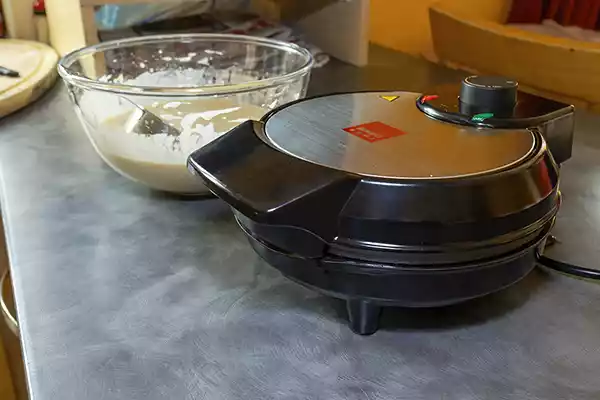 During the cooking phase, you'll see steam escaping from the sides of the waffle maker. This will gradually subside. When you see little or no steam escaping, this is a sign that the waffle is cooked.
Depending on how much batter you poured into the waffle maker, you may see the top half of the waffle maker lift slightly as the baking soda causes the waffle to rise.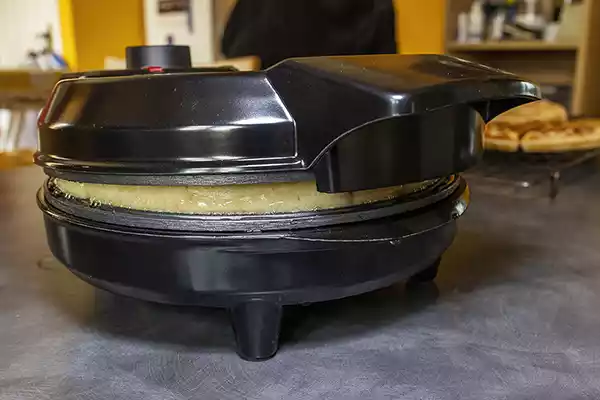 Step 7: part 4
When the waffle is ready, lift it out with tongs or other non-stick safe utensils and place it on a rack. Place the rack in a warm grill or oven until ready to serve.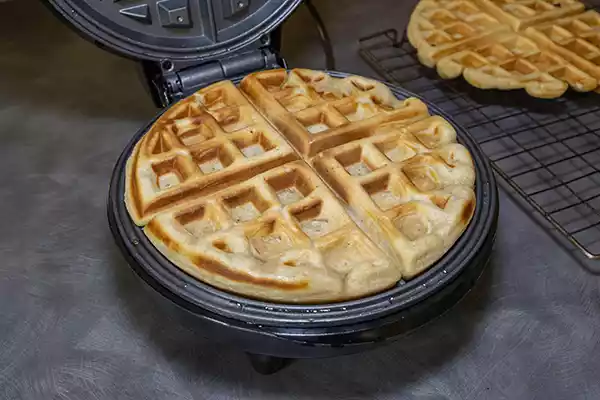 Step 7: part 5
Repeat this cooking process until the batter is used up. You should have enough batter to make four 7-inch round waffles.
Add Your Toppings and Serve
Although you can enjoy your Banana waffles plain, I think they make a much better breakfast if served with toppings. Almost any fruit and syrup will go with your waffles, but, to get you started, here are some topping ideas that will go with banana waffles. Choose one item or a combination from the table that is to your liking.
| Fruit | Nuts | Dairy/Sauces/Syrup | Other |
| --- | --- | --- | --- |
| Banana slices | Almond | Caramel | Chocolate chips |
| Blackberry | Cashew | Chocolate | Almond butter |
| Blueberry | Hazelnut | Crème Fraiche | Cashew butter |
| Dates | Pecan | Honey | Peanut butter |
| Orange segments | Pistachio | Icelandic Skyr | |
| Passion fruit | Walnut | Fruit Jams/Preserves | |
| Pineapple | | Maple Syrup | |
| Pomegranate | | Whipped cream | |
| Raspberry | | | |
| Strawberry | | | |
Table of toppings that go with banana waffles
Once your banana waffles are to your liking, you can go ahead and enjoy your breakfast, or whatever meal of the day it is. We don't judge.
Serving Suggestion
If you're still stuck, here's one of the ways I eat these delicious waffles.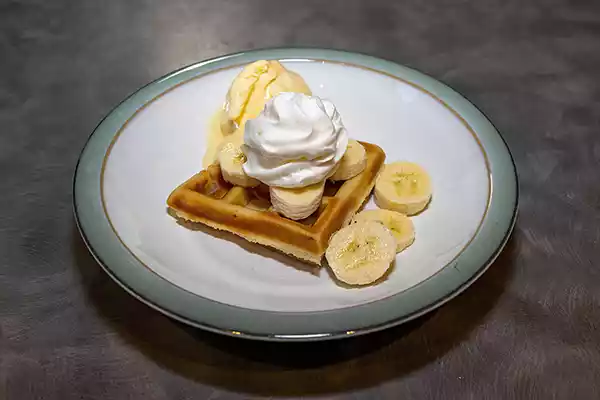 Place a couple of round waffle quarters on a plate or bowl. Add some banana slices (ripe but not overripe), and a scoop of vanilla ice cream, then finish with some whipped cream. It's truly wonderful.
If you want to cut the fat content, skip the ice cream and whipped cream, and instead top the waffle with a tablespoon of Icelandic Skyr and a couple of teaspoons of spiced-ginger preserve. Even with less fat, it's heaven for breakfast.
Banana Waffle Nutritional Facts
If you want to keep track of the calories in what you eat, the following table gives the calorie content in

the complete recipe that makes four 7-inch round waffles,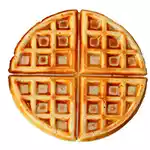 a single 7-inch round waffle,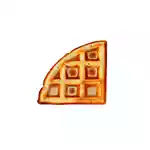 and a 1/4 segment of a 7-inch round waffle.
| Ingredient | Calories in the full recipe | Calories in 1 7-inch round waffle | Calories in one waffle (1/4 of round waffle) |
| --- | --- | --- | --- |
| Banana | 103 | 25.75 | 6.4 |
| All-Purpose Flour | 784 | 196 | 49 |
| Eggs | 144 | 36 | 9 |
| Milk | 103 | 25.75 | 6.4 |
| Vegetable Oil | 636 | 159 | 39.75 |
| White Sugar | 255 | 63.75 | 16 |
| Baking Powder | 4 | 1 | 0.25 |
| Ground Ginger | 12 | 3 | 0.75 |
| Vanilla Extract | 24 | 6 | 1.5 |
| Salt | 0 | 0 | 0 |
| TOTAL | 2065 | 516 | 129 |
Calorie count for Banana Waffles
Storing, Freezing, and Reheating your Leftover Banana Waffles
If you have leftover waffles, you can save them for later.
Place the waffles on a cooling rack until they reach room temperature. This allows excess moisture to evaporate that would otherwise make the waffles go soggy and promote mold growth.
Once the waffles have reached room temperature, put them in a Ziploc bag or a Tupperware container and then store them in the fridge if you plan to eat them within three to four days, otherwise freeze them.
When you are ready to eat your leftover waffles, you will need to refresh them in the toaster or oven for about 30-60sec. Not only does this crisp up the outside and warm the waffle, but it also helps to improve the fluffy texture of the inside. If reheating from frozen, you can let the waffle thaw before refreshing, or just pop it in the toaster for a little longer.
Making Banana Waffles Healthier
Your breakfast waffles can still be tasty and healthier than regular waffle recipes.
Alternative Fats – You need some fat when making waffles, whether it's in the batter or used to grease the cooking plates. But you have a wide choice of fats. Canola oil is a good choice, and many consider this vegetable oil to be healthier than butter. But there are other oils you could consider using. For instance, coconut oil is a really good choice, especially refined coconut oil that is almost flavorless and has a higher smoke point than unrefined coconut oil.
Fat substitutes – If you want to drastically reduce the fat content in your waffles, cut out the vegetable oil altogether. You can replace the oil or fat in your baking with applesauce or even pectin.
Reduced sugar – Although there is only a third of a cup of sugar in this recipe you could reduce this and make up the difference with honey. Honey is widely thought of as being healthier than refined sugar. It has also been shown to have certain beneficial medicinal properties that can help with the healing of wounds. If you are not keen on the taste of regular honey, try blossom honey produced from crops of oilseed rape (the source of canola oil).
When I was a beekeeper in Aberdeenshire, my hives were surrounded by fields of oilseed rape, and I produced hundreds of pounds of this type of honey. It's a light color, almost white in color when set, very sweet, and has a mild favor. It's ideal if you want the honey to substitute for white sugar, just reduce the amount of liquid in the recipe a little to take account of the moisture in the honey.
Alternative kinds of milk – You don't have to use regular whole milk. Semi-skimmed or skimmed zero fat milk will do just as well. If you want the taste of buttermilk, you could use that in the recipe.
A favorite of mine is to use Icelandic Skyr instead of milk. You could argue it's a bit like using buttermilk. Skyr is fat-free, reduced sugar, and is high in protein.
But if you want to use plant-based dairy-free milk, that's easy to do. Almond, coconut, hemp, macadamia, oat, and soy milk are readily available and can be substituted for the milk in the recipe.
If you don't want cow's milk but are OK with other animal milk, you could use goat and even camel milk. Yes, you heard me right. Both are available to buy on Amazon but look for organic products since the milk won't include additives or added growth hormones. The main problem is that these kinds of milk are more expensive than regular cow's milk.
Making Waffles Gluten-Free – You don't have to be gluten intolerant to enjoy Gluten-Free Banana Waffles. You can replace normal All Purpose Flour at a 1:1 ratio with Almond Flour. However, you may also need more eggs to bind the almond flour.
Alternative Spices in the Banana Waffle Recipe
If you'd like to spice up your banana waffles, you've come to the right section in this article. I include 1½ teaspoon of ground ginger in the standard recipe, which I think is a safe amount for most people. This amount isn't overpowering, and in fact, I would double this for my family.
But there are other spices you could use along with ground ginger, or as a replacement. Here is a list of spices that work well in banana waffles.
Allspice
Cardamom
Cinnamon
Ginger
Nutmeg
Need a new waffle maker? See the excellent choice on Amazon
Tosh learned how to cook while watching his Polish Mom at home. He also worked in a family-owned restaurant while a student and learned much from the chefs. Cooking has always interested him, especially the hearty Polish recipes he learned from his mother. He has helped create and appeared on cookery shows on radio stations in Scotland.
Recent Posts