KitchenAcorns.com is supported by its readers. Please assume links on this site are affiliate links or ads, and that I get commissions for purchases made through these links. As an Amazon Associate, I earn from qualifying purchases. Thank you if you use any of the links.
What's Pumpkin Pie Spice
Pumpkin Pie Spice, or simply Pumpkin Spice, is an American spice mix that is used as a flavoring in Pumpkin Pie, other baking, and coffees. Pumpkin Pie Spice is like British Mixed Spice as both contain ground allspice, cinnamon, cloves, ginger, and nutmeg, but Mixed Spice also includes ground coriander and mace.
The exact proportions of spices may vary, whether it is homemade or a commercial brand. Some mixes may not include all the stated ingredients but should at least include three of the spices mentioned. If necessary, ground allspice can be used as a substitute for pumpkin pie spice.
One of the earliest mentions of making pumpkin pie using similar types of spices as those in pumpkin pie spice was in Amelia Simmons' book, American Cookery, which was published in 1796. But pumpkin pie spice wasn't mentioned in cookbooks until the end of the 19th century.
It wasn't until the 1930s that the spice blend was introduced pre-blended by McCormick & Company.
How to Make DIY Pumpkin Pie Spice or Pumpkin Spice
It is not difficult to make Pumpkin Pie Spice at home. However, there are two levels of effort required, depending on whether you use whole spices and roast and grind them yourself or just buy ready-ground spices.
Spices that are already ground do not have as strong a flavor or aroma as those that you roast and grind yourself. However, ready-ground spices are OK to use, unless they have been at the back of your store cupboard for a long time and past their expiration date.
If you do want your spice mix to have the strongest aroma and flavor, roast the whole spices in a dry pan prior to grinding. I recommend grinding the spices with a Bamix food processor and spice mill since the mill will even grind nutmeg, which is one of the hardest of spices. This is what I use in my kitchen and love its versatility and quick it is to clean up after use.
bamix Grill n Chill Immersion Hand Blender – 4 Stainless Steel Interchangeable Blades –400ml & 600 ml Beakers, Processor Attachment, Table Stand, Recipe Book, and Apron – 200 Watt with 2 Speeds
INTERCHANGEABLE BLADES: With a multi-purpose blade, a whisk blade, a beater blade, and our special meat and vegetable blade, you get the multifunctionality of multiple kitchen appliances all in one. Create a perfect vortex to draw food into blades for efficient mixing then run under water for easy cleaning.
POWERFUL AND PRECISE: A powerful 200-watt A/C motor keeps constant, precise speed under heavy loads. With 2 speeds (12,000 RPM and 18,000 RPM), a push button control for continuous or pulse actions, and an ergonomic handle, our blender maintains efficient pulses with less vibration and noise. Heat resistant with high torque, you can submerge our blender shaft in a variety of foods and even boiling liquids.
THE ULTIMATE PACKAGE: The Grill and Chill bundle features some of Bamix's best products. Cook in style with our Bamix apron and achieve more efficient processing with the included processor attachment. Additionally, our bundle offers a 400 ml and 600 ml beakers perfect for no-mess blending.
5 YEAR WARRANTY: Get ultimate durability and easy handling with our made to last hand blender. Save time and money with a reliable purchase that gives you a 5-year warranty for ultimate satisfaction.
HANDBUILT IN SWITZERLAND: Whether you are a professional chef or home cook, our hand blender will get any cooking job done. Swiss made, our Grill and Chill blender includes a US plug, 4 interchangeable blades, a processor attachment, a table stand for easy storage, 400ml and 600ml beakers, a recipe booklet, and an apron.
But let's assume you want to keep things simple. What you'll need is to use the following spices in their ground form. I'll give the exact amounts in a moment.
Allspice
Cinnamon
Cloves
Ginger
Nutmeg
What is important is to use good measuring spoons. Measuring small volumes in the kitchen can be done more accurately than weighing small amounts.
To get consistent measures make sure the ground spices are loose and not compacted or lumpy. If necessary, crush any lumps with the back of a spoon. When you're ready to measure the required amount of spices, scoop up a teaspoon of the spice, then level the top by pushing off the excess with the back of a knife.
Accurately measuring the amount of each spice is the key to having a consistent flavor for each batch of Pumpkin Pie Spice you prepare. This is especially true when using cloves. This spice has a very strong and distinctive taste, so measuring the amount inaccurately will change the overall flavor of the mix.
Ingredients for Pumpkin Spice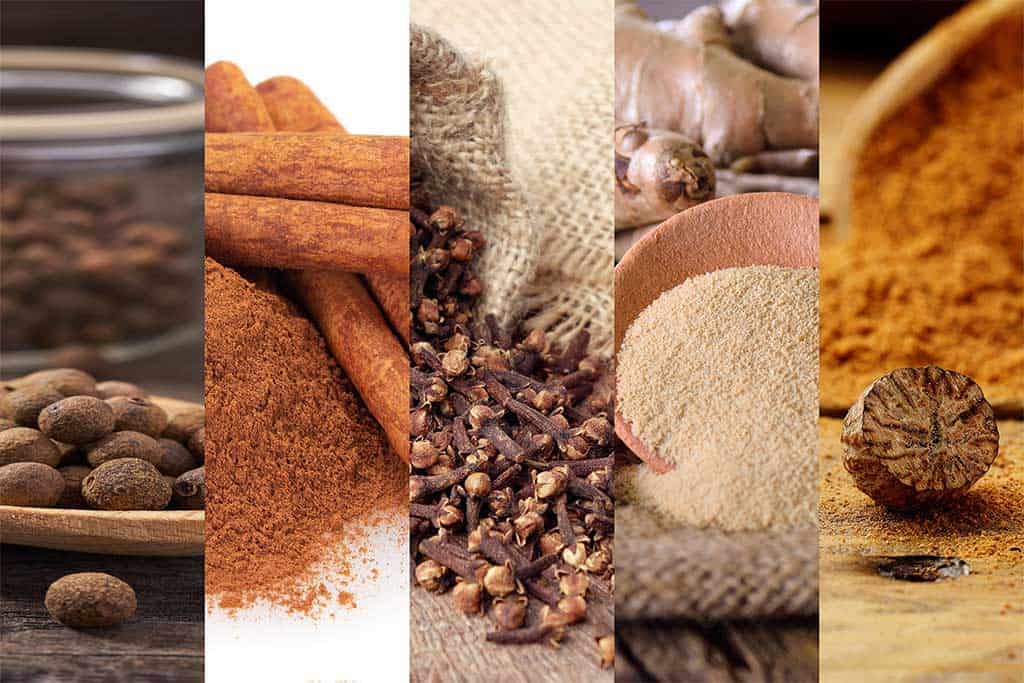 The following quantities will make 3 tablespoons of Pumpkin Pie Spice. To adapt the quantities to be a recipe for 1 tablespoon of pumpkin pie spice divide the amounts by a third, although measuring out such a small amount may be a challenge.
Do not make more spice mix than you can use in a relatively short amount of time. This is because the delicate aromatic oils are lost over time, weakening the flavor and aroma of the spice mix. It only takes a few minutes to make the blend and it's easy to do, so don't be tempted to make a huge amount.
To make Pumpkin Pie Spice accurately measure the amount of each of the following spices and add to a mixing bowl.
☐ 1½ tsp Ground Allspice
☐ 4 tsp Ground Cinnamon
☐ ½ tsp Ground Cloves
☐ 2 tsp Ground Ginger
☐ 1 tsp Ground Nutmeg
Once you have all the spice ingredients in the bowl stir them together until thoroughly mixed. Transfer the spice mix to an airtight container and store it in a cool, dark, place.
It's as simple as that.
If you need the ingredients to make your pumpkin pie spice mix I've found them for you on Amazon.
Can I alter the proportion of spices in Pumpkin Pie Spice?
Just as not all commercially available Pumpkin Pie Spice blends are the same, you can change the proportion of the spices in your own blend.
A couple of options is to make your DIY pumpkin pie spice with ground coriander, mace, or cardamom added to the given list of ingredients. This will obviously change the flavor by the amount you add. So, make some test batches to judge which spices you like as additions and the amount you need to add.
The easiest way to do this is to make the standard mix then split it into two teaspoon portions. The quantities in my recipe will make 3 tablespoons, or 9 teaspoons, of pumpkin pie spice mix, so you split it into 9 one teaspoon piles of the mix.
To each pile add the ground spice of your choice, taking a note of how much you've added each time. Try using each of the new blends and decide which one you like best. For that blend multiply the quantity of added spice by 9 (because you split the original batch into 9 parts) and add that amount to the standard recipe next time you need more spice mix.
Other changes that you can make to the recipe revolve around Allspice. It is an ingredient that is not included in all Pumpkin Pie Spice blends, although I think it does enhance the overall flavor. Allspice tastes like a mixture of cinnamon, cloves, and nutmeg, so you could leave it out and make up the difference with extra cinnamon, cloves, and nutmeg. How much of each is up to your personal taste.
Be careful about increasing the amount of ground cloves in your spice mix. Cloves have a strong and distinctive flavor, so do not go wild with increasing the amount in your blend.
TIP: Keep your homemade pumpkin pie spice in an airtight container and keep it in a cool, dark, place.
Need a new waffle maker? See the excellent choice on Amazon
Tosh learned how to cook while watching his Polish Mom at home. He also worked in a family-owned restaurant while a student and learned much from the chefs. Cooking has always interested him, especially the hearty Polish recipes he learned from his mother. He has helped create and appeared on cookery shows on radio stations in Scotland.