Author: Tosh Lubek Published: 11th December 2021
KitchenAcorns.com is supported by its readers. Please assume links on this site are affiliate links or ads, and that I get commissions for purchases made through these links. As an Amazon Associate, I earn from qualifying purchases. Thank you if you use any of the links.
If you've ever tasted Waffle House's delicious waffle batter, you might be wondering how you can get those same results. Is it all in the machine? Is it the recipe they use? The answer might surprise you.
Waffle House uses the Wells WB-1E commercial waffle maker. You can find this waffle maker at retailers like eBay, Wells, and other online sites. However, Waffle House now sells its waffle mix online, so you can also recreate the authentic Waffle House taste using cheaper alternative waffle makers.
If you're ready to learn how to make some decadent Waffle House waffles, read on. Here we'll discuss the waffle maker they use, where to find it, and how to make waffles that taste just like theirs.
What Waffle Maker Does Waffle House Use?
Waffle House uses the Wells series of commercial waffle makers. These machines are heavy-duty and made for large quantities of waffles in a short period. They're excellent for restaurant settings but not often in the budget of those looking for a quick and easy setup. Here is some basic information about the Wells WB-1E Waffle Maker:
Wells Brand
Number of sides
Cook time
Price
Features
Heating capabilities
Wells WB-1E
1 or 2
10 seconds – 10 minutes
$700 to $3000
● Digital time and temperature display
● On/Off switch
● Stainless steel
● Current temperature display
● Alarm when done
120V, 208/240V, or 230V with cords & plugs
Waffle House utilizes the two-sided Wells maker to make as many waffles as possible in as short a period as possible.
If you're looking for a cheaper version of the Waffle House Wells waffle maker for sale, you'll want to check out other industrial and commercial waffle makers that are at a lower price point. You will have to do a lot of upkeep to keep your Wells waffle maker clean and functioning well. It's up to you to decide if that's worth it. Later in this article, I show how you can have the authentic Waffle House taste without going to the expense of getting the same waffle maker that is used at Waffle House.
Where Can I Buy a Waffle House Waffle Maker?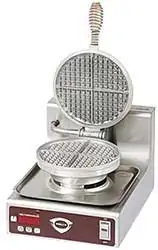 The Wells WB1E waffle baker with digital controls is a commercial-grade waffle maker. It is fabricated from heavy-duty stainless steel for durability, and nickel-plated, open-coil handles. So, durability and user safety are built-in. However, being a commercial grade appliance the WB1E comes with a commercial price ticket.
If you've decided you want to buy a waffle maker like the ones that Waffle House uses, you have a few options. Let's first look at where you can purchase a Wells Waffle Maker.
Buying a Wells Waffle Maker from Wells
It's always best to buy a product from the source itself. Wells still sells the same series model that Waffle House uses to make their waffles.
To buy a Wells waffle maker from their site, simply follow these steps:
Navigate to the waffle maker of your choice.
Click on "Find a Dealer."
Select the dealer of your choice from the menu that appears.
You will be redirected to their website.
Select the waffle maker you want.
Purchase through the dealer's website.
You've now made your purchase! All you have to do is wait the required shipping time, and your waffle maker will be all yours to use.
Buying a Wells Waffle Maker on eBay
eBay is another dealer online where you can buy a Wells waffle maker. The makers on here tend to be a little bit cheaper because they are used and sold by the owner. They aren't new, but you can sometimes find a gem in your search.
Here's how to find and purchase a waffle maker on eBay:
Search for the waffle maker brand in the search bar at the top of the Home page.
Scroll through the waffle makers until you find the one you want.
Select the waffle maker.
Make a bid or select "Pay Now."
Enter your payment information once your bid wins or you are accepted to purchase the waffle maker.
Enter shipping information and finish your order.
Your waffle maker should arrive within the time listed on the post. Remember to check seller reviews on eBay before purchasing from someone. You want to ensure you will get an actual product and aren't being scammed.
Buying a Similar Waffle Maker on Amazon
Even though Amazon doesn't sell Wells waffle makers, they have plenty of commercial waffle makers available to yield the same or similar results.
Some of these brands include Cuisinart, Bella, and All-Clad. You can use these links to find the waffle makers on Amazon.
Depending on your preferences and budget, these makers might be a better choice for you. Remember: The recipe at Waffle House is what truly makes the waffles delicious. A good waffle maker can only help.
Why Do Waffle House Waffles Taste So Good?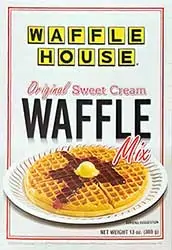 Waffle House doesn't give out the recipe for their world-famous waffles. However, you can now make them yourself from the comfort of your home. Waffle House recently launched a website where you can buy a box or bag of their famous waffle mix for only $8. What a steal!
Although a good waffle maker can help make a recipe taste delicious, Waffle House's recipe is genuinely where the goodness comes from. Make your own Waffle House waffles at home or try a similar formula to recreate the delicious taste. Just don't expect that you'll never need to step foot inside a Waffle House restaurant again to get your true fix.
How to Make Waffle House Waffles at Home
You can utilize a few different methods to make your own Waffle House waffles at home. The first is to simply buy the Waffle House mix. You can do so at Waffle House's official shop website. Not only can you buy Waffle House waffle mix, but you'll also find some of their other products, gifts, and apparel.
Pro Tip: One Waffle House enthusiast said adding half-and-half to your own waffle recipe can make it taste just like Waffle House waffles. Add this to your recipe and use a round waffle-maker to try it out.
The second method is to make a similar recipe at home from scratch. There are plenty of similar recipes available on the internet that will produce waffles that taste similar or almost the same as Waffle House waffles.
Conclusion
Now that you know how to make Waffle House waffles from home with your own Waffle House maker, you're ready to have a waffle party. Purchase some delicious fruit toppings, butter, syrup, and whipped cream, and get to baking!
Tosh learned how to cook while watching his Polish Mom at home. He also worked in a family-owned restaurant while a student and learned much from the chefs. Cooking has always interested him, especially the hearty Polish recipes he learned from his mother. He has helped create and appeared on cookery shows on radio stations in Scotland.
Recent Posts