Author: Tosh Lubek Published: 30th April 2021
KitchenAcorns.com is supported by its readers. Please assume links on this site are affiliate links or ads, and that I get commissions for purchases made through these links. As an Amazon Associate, I earn from qualifying purchases. Thank you if you use any of the links.
Have you ever wondered how to make waffles from scratch? These delicious, crispy treats don't have to be reserved for posh restaurants or packet mixes you might pick up at the store – they can actually be very easy and fun to make from home, especially if you make them with a partner, a friend, or your children.
Why Would You Make Waffles from Scratch?
There are many reasons that you might like to make waffles from scratch. If you've ever used a packet mix, you'll know that waffles made fresh taste much better than waffles you might buy ready-made and reheat – but waffles made from scratch can taste even better than that!
Making waffles from scratch can also be great fun. If you're a bit of a foodie and you want to spend more time in your kitchen, whipping up a batch of waffles for breakfast is a great way to do it. You can freeze waffles for future breakfasts (assuming there are any left) by making big batches in one go.
You can also customize the batter to include anything you like. If you buy a packet mix from the store (or ready-made waffles), you have no control over what goes into the waffles. Too much salt? Too much sugar? Tough; you get what they give you.
This is even worse if you need to cater to allergies or coeliac disease. Waffles can be adapted to comply with many allergies or dietary choices, but you're unlikely to find tailored waffles in a store, and you'll be paying over the odds for them if you do.
By making waffles yourself, you can choose top quality ingredients, swap out things you don't want to be eating, and alter the recipe to suit your tastes exactly. If you want organic, free-range eggs, you're sorted. If you want zero salt but lots of sugar, ditto.
Finally, many parents like to cook waffles because it's a family activity and your kids can have fun. Teaching kids how to cook can be a challenge if they aren't interested in the kitchen, but if you can introduce them to a good waffle mix, they might well change their minds about cooking being boring.
How To Make American Waffles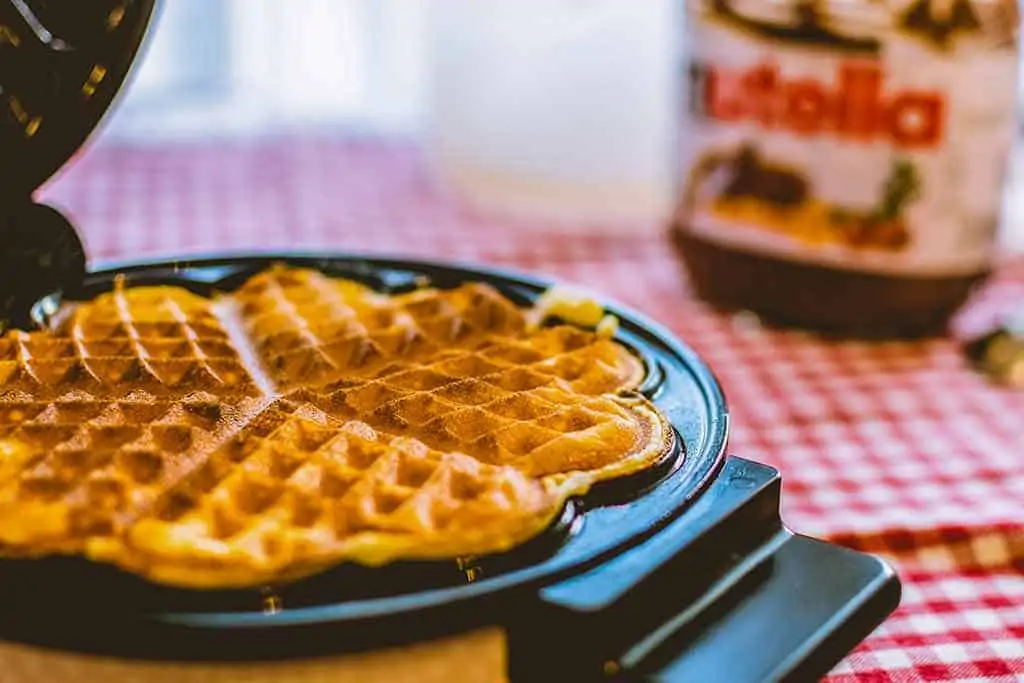 You will find many recipes on how to make waffles online, and everybody seems to have secret twists and knacks that make it quick and easy, and produce perfect waffles.
You will probably develop a few yourself once you become a waffle-making-pro, but we're going to start off with a simple recipe to get you going.
You don't have to have a waffle maker to make waffles, but it does increase your chances of good waffles, and you will find the cooking process easier. You can use silicone molds to bake your waffles in the oven, or a variety of methods to cook them in skillets, but a waffle maker is the best tool for the job.
Ingredients
So, what are the basic waffle ingredients? Well, you're going to need:
2 cups of all-purpose flour (plain flour in the UK)
2 large eggs
½ cup of melted butter (or substitute with vegetable oil)
½ teaspoon of vanilla extract
1 tablespoon of sugar
1 tablespoon of baking powder
1 ¾ cups of buttermilk
Pinch of salt
Toppings of your choice (popular options include syrup, whipped cream, butter, honey, fruit, or savory choices such as ham and cheese)
Method
Get a large mixing bowl and sift in the flour. Add the sugar, baking powder, and salt, and then mix with a wooden spoon to combine.
Break your eggs into a cup (so you can remove any stray shell) and add them to the bowl.
Add the buttermilk, vanilla extract, and melted butter.
Stir the batter until all the ingredients are mixed in but try not to mix more than you need to. Over-mixing can make the waffles stiff and chewy.
Preheat your waffle iron according to the manufacturer's directions, and then make sure you have a plate ready to put the hot waffle on once it's cooked. If you are going to make lots of waffles, you can preheat your oven to a low temperature and put a cooling rack in there to transfer the waffles to once they have finished cooking in the waffle maker.
Scoop some batter into your waffle maker. You may find guidelines in the manufacturer's instructions; often, a third of a cup or half a cup is sufficient, but this will depend very much on the waffle maker you're using. (Don't worry if you get it wrong the first time; you will soon learn how much to use. If a bit spills out or you get smaller waffles, it doesn't matter.)
Press down the lid of the waffle maker and cook according to the guidelines. Each waffle maker is different, but most will beep to let you know the waffles are ready. (Over time, you will learn to judge this more accurately from the smell and from practice but use the machine to guide you, to begin with. Once the steam stops coming out, the waffles are usually ready.)
Lift the lid and slip the waffle out. If it sticks, don't panic. You can use any rubber implement to gently ease it free. Workaround the edges and just keep nudging it until it loosens up. Don't use metal implements as they will scratch the non-stick coating.
Tips
You shouldn't open a waffle maker halfway through the cooking process, as your waffle will probably tear. Although all waffle makers vary in their efficiency and settings, about five minutes is often a good guideline for how long they take.
You probably won't need to grease a non-stick waffle maker, especially when it's new. If you do find that grease is needed, avoid spray-on oils as these tend to cause buildup that can decrease your waffle maker's efficiency and be hard to clean off.
When you have finished using your waffle maker, unplug it, allow it to cool, and then wipe it clean with a slightly damp cloth, removing any crumbs or greasy marks so that it's ready to use next time.
You can store extra waffle batter in the fridge for up to five days in an airtight container. This is a terrific way to have quick and easy breakfasts ready, especially on those chaotic mornings where nobody has time to cook.
You may want to alter the recipe – that's part of the point of cooking from scratch, after all – but for your first try, it's best to just use a standard one so you can get a feel for how it should look. You can then experiment with gluten-free flour, reduced sugar, etc.
How To Make Belgian Waffles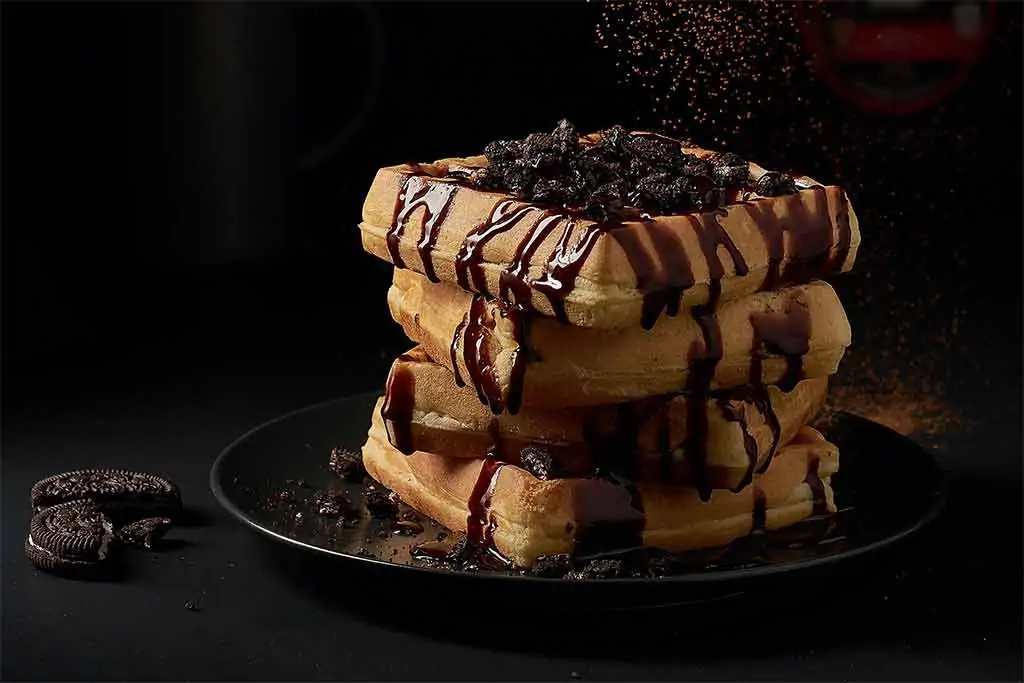 Belgian waffles are similar to American waffles, but you will need a Belgian waffle iron to make them, as they tend to puff up more and have deeper pockets.
Some Belgian waffle recipes require yeast and need to be left overnight to rise properly. Others, like the one we will cover here, are simpler, but still a little more involved than American waffles.
Ingredients
2 cups of milk
2 large eggs, separated
2 ½ cups of flour
3 tablespoons of sugar
1 tablespoon of baking powder
½ cup of vegetable oil
1 teaspoon of vanilla extract
Pinch of salt
Method
Mix the dry ingredients in a large bowl.
In a separate bowl, beat the egg whites until stiff peaks form.
In a third bowl, mix your milk, vanilla extract, egg yolks, and vegetable oil. Add this to the dry ingredients, and combine (again, don't mix more than you have to).
Fold in the egg whites, and then pour into a preheated waffle iron and cook following the manufacturer's instructions. As soon as they're ready, serve them with toppings. Again, if you have problems with sticking waffles, use a silicone implement to gently tease and nudge the batter until it lifts free.
Different Types of Waffles
There are plenty of other variations on both kinds of waffles, such as the Liege Belgian waffle. This uses a very coarse kind of sugar known as pearl sugar. Pearl sugar makes a delicious, caramelized, and crispy coating on the outside of the waffle, changing the texture a little.
Yeast waffles tend to be more involved, so you may want to try these simpler recipes if it's your first-time making waffles yourself – you can always move onto the more advanced options later to increase your waffle repertoire and keep exploring this amazing food.
Conclusion
You should now have a good idea about how to make waffles from scratch. Remember that even if your first attempt is a disaster, many kitchen experiments are. It's okay to have it all go horribly wrong; just have another try on another day.
Making waffles from scratch is a fantastic way to have fun in the kitchen and enjoy a decadent, delicious breakfast in the comfort of your own home. Try out some savory waffles for lunch or even dinner options, and you'll soon be a confident waffle connoisseur.
Tosh learned how to cook while watching his Polish Mom at home. He also worked in a family-owned restaurant while a student and learned much from the chefs. Cooking has always interested him, especially the hearty Polish recipes he learned from his mother. He has helped create and appeared on cookery shows on radio stations in Scotland.
Recent Posts