KitchenAcorns.com is supported by its readers. Please assume links on this site are affiliate links or ads, and that I get commissions for purchases made through these links. As an Amazon Associate, I earn from qualifying purchases. Thank you if you use any of the links.
Cooking outdoors on a camping trip does not mean you need to give up on enjoying your favorite waffles for breakfast. We've selected five examples of waffle irons that work well outdoors. So, if you need a new waffle maker for a camping trip follow this extensive guide and review. I'm sure you will find a waffle iron you'll love to take outdoors!
The 5 best waffle makers for camping fire stoves are:
Rome Industries Old Fashioned Waffle Cast Iron
Non-Stick 30×14.5cm Waffle Iron from Monaco Store
Stove Top 2 slice mini–Waffle Iron from Baffect Store
Nordic Ware Sweetheart Waffler
Bubble Waffle Maker Pan by StarBlue
What to consider when choosing a camping waffle iron
One consideration is weight. If you are hiking a long distance, carrying cast iron just to make waffles might not make sense. However, if you are front country camping then a cast iron waffle iron might be great.
Another consideration is whether or not your waffle maker for camping is nonstick. It is hard to clean things up in the woods so having something that is nonstick makes cleanup easier.
Some waffle makers have fun designs and patterns. If you want to have some extra fun, get a waffle maker that deviates from the standard waffle style.
The ease of use of your waffle iron is another thing to think about. You don't want to be struggling to make your waffles. Practice using your waffle iron at home first to get used to it.
Lastly, consider safety, especially if you are camping with children. Make rules surrounding the waffle iron and teach your kids, if they are the appropriate age, how to use it safely.
Making waffles can be a great way to teach kids responsibility, how to cook, how to clean up, and the importance of family. But it is vital to stay safe while doing so.
Safety of non-stick coatings for waffle irons
Non-stick coatings for waffle irons are accomplished using a compound called Teflon. It is the same compound used in almost all non-stick cooking appliances.
Over the past decade, the safety of Teflon has come into question.
This is due to a chemical called PFOA. It hasn't been used since 2013 in nonstick cookware.
Teflon is generally a stable and safe compound, despite claims stating the contrary.
It gets a little more complicated when cooking at extremely high heat though. Temperatures above 750 degrees F (300 degrees C) can make the coating break down and release toxic chemicals.
Avoid cooking on high heat with your waffle iron. Only use it over a campfire if you have excellent control over how hot your campfires get.
Top Tip: Season your cast iron waffle maker before camping
Before taking a new waffle iron on a camping trip make sure you season it first.
Seasoning a cast iron waffle maker will help prevent rusting of the iron and make the metal surface more stick-resistant. Both are desirable features when out on a camping trip.
Cookware seasoning, also known as curing, involves the application of a thin layer of fat or oil and then heating the cookware in a hot oven to form a protective surface coating. This process is much easier to do at home in an oven or on a stovetop.
Done well, a seasoned cast iron waffle maker will help prevent your waffles from sticking and make cooking much more fun.
I explain the process and what oils to use in my article, How to season a cast iron waffle maker or other cookware.
Best traditional cast iron waffle iron
Rome Industries Old Fashioned Waffle Cast Iron
This waffle iron is as classic as it gets. There's nothing better than a heavy-duty cast iron waffle maker for camping.
Waffles don't stick to cast iron waffle irons that are properly seasoned. They spread and retain heat evenly so the waffles will be fully, evenly cooked.
This waffle iron can be passed down for generations with the proper care. Your kids can grow up using it and know they will inherit it one day. This will encourage them to learn how to care for it.
With other waffle irons, you must keep applying oil or butter. As long as this one is properly seasoned, that won't be necessary.
It is also incredibly easy to clean up using this waffle iron because you don't use soap to wash cast iron.
Since this waffle maker for camping is cast iron, it is best suited for front country use. Unless you are a die-hard waffle fan and have calves of steel, it would be a little bit much to hike this very far.
Best Belgian single slice waffle iron
Non-stick 30×14.5cm Waffle Iron from Monaco Store
This waffle iron is easy to use. All you do is put in the batter and press it down.
Since it's nonstick all it will need is a little cooking spray to start out and then you should be set for the rest of your waffles and not have to reapply it each time.
This waffle iron is highly versatile and great for making paninis, breakfast sandwiches, and more. Get creative and have fun with it! That's what camping is all about.
It will fit nicely over your fire or on your camping stove because it's just the right size. It's only .5kg, so you can easily hike this into your favorite camping location without breaking a sweat. It doesn't have to stay in the front country.
Cleaning up will be easy because it is nonstick. All you need to do is wipe off the crumbs and use a rag with some soap and water if there are any stubborn bits left over.
Belgian waffles are a favorite among diners across the country, and there's a reason for that. Their fluff can't be replicated by other waffles. They are the most luxurious out of all the waffles. Bring some of that luxury camping with you with this waffle maker for camping!
Best 2 slice waffle iron
Stop Top 2 slice mini–Waffle Iron from Baffect Store
Baffect Non-stick Cast Aluminum Stovetop Waffle Iron, 8.7 Inches Camping Waffle Maker Pan, Portable Stove Top Aluminum Waffle Maker Pan for Family Breakfast Baking
Save time and space - The aluminum waffle maker allows you to make crunchy waffles in 5 minutes on stove top, saving your precious cooking time. With a non-stick coating and slim profile, this Baffect waffle pan can be easily wiped-off, cleaned up and storage, which takes up less space than an electric waffle maker.
DIY your own taste - By adjusting the stove top fire and controlling the baking time, the aluminum waffle maker can DIY delicate but crisp waffles belonging to your own taste. The waffle maker comes with cast aluminum for even heating on stove top, so you can ensure that the waffle maker will produce a beautiful waffle as you want.
Long handle for safe - With anti-scalding material, the long handle of this Baffect waffle pan keeps you away from danger and labor-saving. When you lock the handle, the stove top waffle maker will make sure your waffles are in place and well-shaped. The compact locking latch design of this metal waffle maker is perfect for easy up-right storage than an electric waffle maker.
Non-stick for easy use - The metal waffle maker is molded in one to be more durable and easier to maintain. With a 5.1 x 5.7 inches surface of aluminum die casting material, the coating of stove top waffle pan is non-stick and heat-resistant for easy removing the waffle and cleaning the whole body.
Perfect for stove top - Baffect non-stick waffle is a non-electric waffler maker for using on gas, electric and ceramic stove top. When you want to enjoy your breakfast at home, open your stove top as beginning. If you go out for camping or picnic, Baffect stove top waffle pan may be a good choice for easy carry and showing cooking skill.
One of the best features of this waffle iron is its long handles and closing latch. Even if you are cooking over the fire, you will be able to hold the waffle iron because the long handle has anti-scalding material.
Coming in at only .3kg, this waffle maker is even easier than the last to hike in. You can hike for miles with this baby and you won't even know it's there. Say hello to waffles in the backcountry.
It isn't every day that you find a piece of camping equipment that can bring everyday joys into the backcountry. But with this waffle maker for camping, your backcountry campsite will be sizzling with the smell of fresh waffles.
This waffle iron has Teflon coating, which, as previously discussed, is safe up until a certain temperature. Since it is hard to control the temperature of a bonfire, it is best to only use it over the fire if you are very good at keeping low-temperature fires.
Otherwise, use this over your camping stove and you will be just as happy!
This waffle iron produces two waffles at a time so not everybody has to wait until all the waffles are done. You will have enough to eat while you cook! It is great if you are feeding two people or the family. Cooking two waffles at a time really makes a difference.
This is a great waffle maker for camping that will produce incredible waffles that will make your day. Just close the latch and wait, and soon you will have delicious waffles.
Best Heart shape waffle iron
Nordic Ware Sweetheart Waffler
Nordic Ware 01705 Sweetheart Waffler, Cast-Aluminium Pan, Heart Shaped, Mini Waffle Maker, Black Five 3.5 inch cavities
Heart Shaped Waffles: The mini waffle pan makes 5 heart shaped waffles to brighten up any morning! Can be used with any waffle recipe (sweet and savoury)
Cast-aluminium: The sweetheart waffle mould pan is made from durable cast-aluminium for even browning. For use on gas, electric and ceramic stovetops
Non-stick: The non stick coating on the waffle pan allows for perfect baked waffles and easy clean up so you don't need to worry about sticking
US made: Sweetheart Waffle maker pan is proudly made in the USA to our exacting standards in our family-owned factory (phenolic handle made in China)
10 year warranty: At Nordic Ware we believe products should be made to last, which is why we include a 10 year warranty with our waffle griddle pan
Do you want to make your partner a Valentine's Day breakfast they'll never forget? Or maybe you want to give your kids special memories of unique waffles while camping. This heart-shaped waffle maker is sure to please.
It makes five heart-shaped waffles at a time so the whole family can eat as you make them. No more waiting for all the waffles to be done, only to have them be cold at the end of it! With this waffle maker, everyone can eat as you go.
The waffles have deep pockets for all the delicious syrup, butter, and more. They will be so full that they are oozing!
This waffle maker is 1.3 kg, so if you want to hike with it you're making a big commitment. But with this waffle maker, it will truly be worth it.
The best way to make these waffles for the first time is by keeping it a secret! Surprise your family with these fun heart-shaped waffles and they will never forget it.
Life is all about the little things that bring you joy. And that's the great thing about this waffle maker. Having heart-shaped waffles while camping is an incredible memory-maker and can create a strong family tradition.
Even if you're just camping by yourself, treat yourself to these cute waffles to brighten up your day.
Best Bubble waffle iron
Bubble Waffle Maker Pan by StarBlue
Bubble Waffle Maker Pan by StarBlue with FREE Recipe ebook and Tongs - Make Crispy Hong Kong Style Egg Waffle in 5 Minutes
✔️ SUPERIOR QUALITY - The unique bubble waffle iron is made from cast aluminum alloy with advanced Teflon coating cooking surface. The eco-friendly egg waffle maker is made from food-grade material is durable enough to be your cooking partner for years to come.
✔️ FUNCTIONAL DESIGN - The double sided pan has a non-stick cooking surface that lets you make crispy golden waffles. The heat-resistant cool touch stainless steel handles with plastic shells make it easier to handle the waffle pan while cooking on heat. The waffle mold has a fixed bracket design, making it easier to open and close.
✔️ UNIVERSAL COMPATIBILITY - This bubble waffle maker is safe to be used on the gas stovetop that makes it a perfect item for home as well as commercial use. Use the non-stick pan to make perfect crispy waffles.
✔️ EASY TO CLEAN - The smooth and non-rough non-stick surface of the waffle bubble maker facilitates easy cleaning. You don't need too much effort to remove the hard stains off the non-stick surface.
✔️ VALUE PACK - Our griddle pan comes with an eBook and one manual with complete instructions on how to use it. There are also one tongs with the double waffle maker to help you take your waffles out of the pan.
Have you ever had a bubble waffle? Well, it's about time that you did!
This waffle maker even comes with an eBook and a manual. It also comes with a set of tongs to help you take the waffle out.
You will have so much fun filling up the bubbles with your favorite waffle toppings like butter, syrup, honey, and whipped cream!
The rounded bubble shape also makes cleaning easier because there are no crevices for crumbs to get stuck in.
These waffles are great for kids because they are so wacky!
It is a double-sided pan with a non-stick surface that creates beautifully crispy waffles.
The stainless-steel handles are heat-resistant, so it is safe to grab the waffle maker while cooking.
It also has a fixed bracket design, so it is easy to open and close.
Bubble waffles are great for kids. They are unique and fun, and your kids will have a blast trying to fill every bubble to the brim. Just like with the heart-shaped waffle maker, these waffles can create lasting memories and a family tradition that no one will forget.
Coming in at 1 kg, this may not be the waffle maker for backcountry camping. But if you're only a mile in or you're camping in the front country, these bubble waffles will certainly add some joy to your day.
Suggested Outdoor Cooking Accessories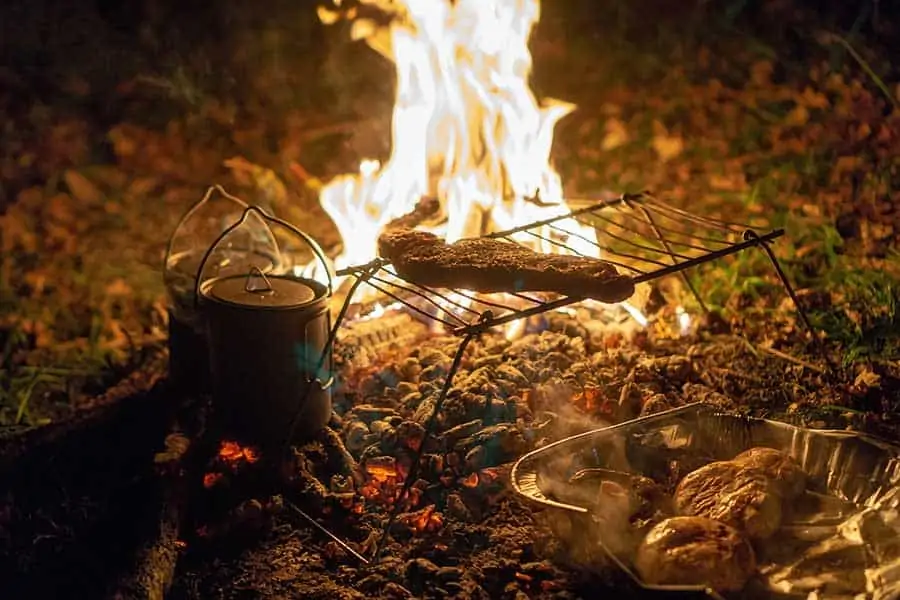 No matter which waffle iron you choose to take on a camping trip you'll obviously need some cooking accessories. Here is a selection of items that will be genuinely useful and help make preparing food on a camping trip a much better experience.
I have included protection for your hand with a silicone or leather hot skillet handle cover. The best-selling Gas ONE GS-3900P dual fuel propane or butane portable stove. The innovative Jetboil MiniMo camping and backpacking stove cooking system, which can reach a rolling boil in just over two minutes with half the fuel consumption of traditional systems. A 2.25 Gal / 8.5L collapsible sink or basin for washing dishes while camping but can double as a basket or somewhere to cool your beers. A 12-piece camping cutlery set for two. A portable/folding campfire grill to set your waffle iron on. And finally, a cast-iron cooker for making toasted sandwiches.
If you don't want to cut down the number of things you need to carry why not drop the waffle maker and use a frying pan (which you might already be taking). I explain how to make waffles in a frying pan in one of my other articles.
Tosh learned how to cook while watching his Polish Mom at home. He also worked in a family-owned restaurant while a student and learned much from the chefs. Cooking has always interested him, especially the hearty Polish recipes he learned from his mother. He has helped create and appeared on cookery shows on radio stations in Scotland.
Recent Posts