Author: Tosh Lubek Published: 11th March 2022
KitchenAcorns.com is supported by its readers. Please assume links on this site are affiliate links or ads, and that I get commissions for purchases made through these links. As an Amazon Associate, I earn from qualifying purchases. Thank you if you use any of the links.
Pumpkin waffles are the perfect Thanksgiving breakfast. But with all the cooking that takes place on Thanksgiving, wouldn't it be good to save some time by whipping up waffles using some simple pancake mix instead of making the batter from scratch?
Pancake mix can be transformed into fluffy Thanksgiving pumpkin waffles by adding simple ingredients like oil, milk, pumpkin puree, and a handful of spices. These can even be made ahead of time for a quick and easy Thanksgiving breakfast.
On a day like Thanksgiving, where festivities, cooking, and socializing are going non-stop, it's important to start out with a solid meal. Keep reading to learn more about how to make pumpkin waffles with pancake mix and a few extra simple ingredients.
What Do You Need to Make Thanksgiving Pumpkin Waffles from Pancake Mix?
While pumpkin waffles may sound a bit fancy, they are much less involved than you might think. In fact, all you need are about five ingredients from your kitchen (depending on the pancake mix you use) plus a waffle iron.
Pancake mixes like Krusteaz, Bisquick, and Kodiak Power Cakes already contain most of the dry ingredients needed for making a batch of delicious waffles. While they do say "pancake mix," it's the wet ingredients that you add to make the batter that really determines whether you will end up with crispy waffles or fluffy pancakes.
The necessary ingredients to make pumpkin waffles with pancake mix
Pumpkin puree
Sugar
Milk or buttermilk
Vanilla extract
Oil —canola oil or coconut oil is preferable, as they have mild flavors that won't alter the result
Pumpkin Pie Spice
You'll also want to decide if you'll be adding any toppings to your pancakes (more on this below) and if you'll be serving them with anything else.
What Spices Should Be Used in Pumpkin Waffles?
The spices you choose are entirely up to you. If you want a sweeter waffle, you could go with some store-bought pumpkin pie spice mix or check out my homemade Pumpkin Pie Spice recipe and create your own.
If your goal is a more savory dish, you'll want to avoid the typical fall spices like cinnamon, clove, nutmeg, and allspice. Instead, stick with simple seasonings like salt and pepper, and use toppings that allow the pumpkin to really shine.
Is there a Difference Between Pumpkin Pie Filling and Pumpkin Puree?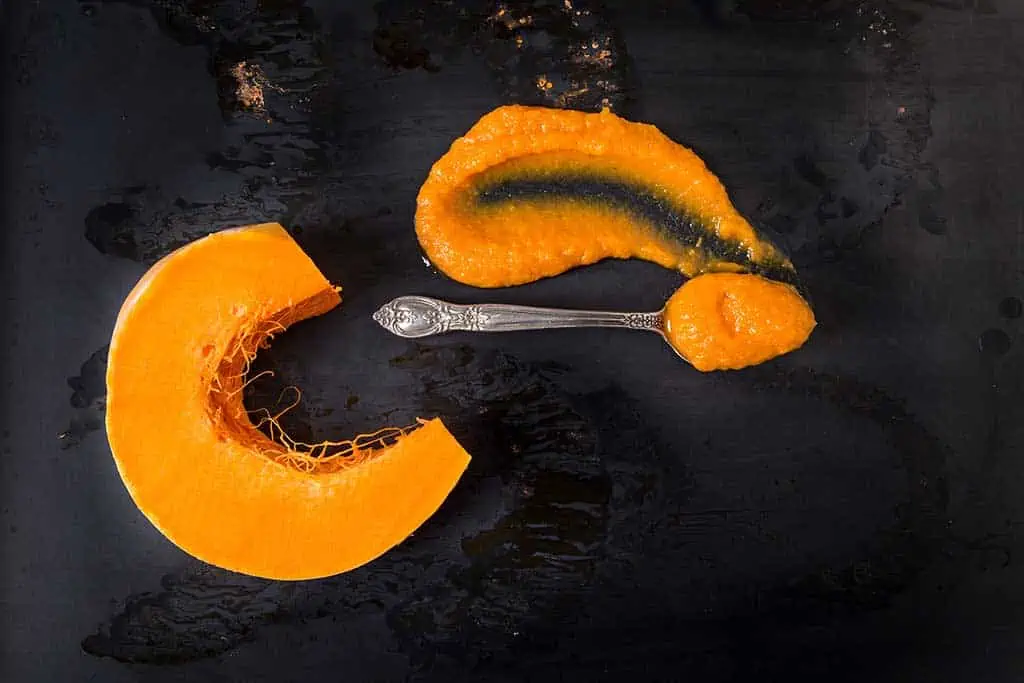 You'll want to make sure you are using pumpkin puree and not pumpkin pie filling in your batter. While they sound the same, they are in fact quite different and will impact the way your waffles turn out.
Pumpkin puree is exactly what it sounds like, pureed pumpkin. Pumpkin pie filling, however, is pumpkin puree with the addition of sugar and spices to create that traditional pumpkin pie flavor.
How To Make Thanksgiving Pumpkin Waffles with Pancake Mix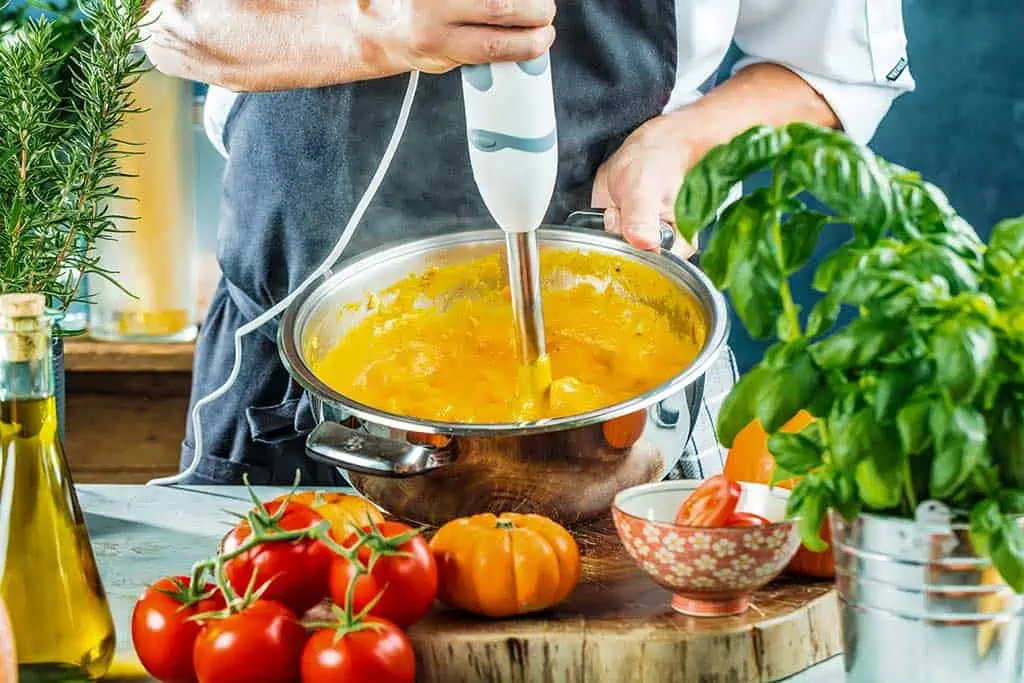 To make Thanksgiving pumpkin waffles, you'll be following the directions included with your pancake mix with a few minor adjustments.
Adjusting the amount of liquid to add
One of the main changes you'll be making is replacing a portion of the liquid called for on the pancake mix box with pumpkin puree. The amount of water you need to use will vary because each pancake mix has its own formula.
A good ratio to aim for is 2 parts water to 1 part puree.
For example, if you are using two cups of pancake mix and the recipe calls for 1 ½ cups of water, use 1 cup of water and ½ cup of pumpkin puree.
Adjusting the amount of oil and sugar
Another change you'll want to make is to double the amount of fat in the recipe and add sugar. Most pancake mixes lack sugar and calls for about one tablespoon of oil. The oil can be a vegetable oil such as canola, coconut oil, or melted butter.
Waffles require the extra fat and sugar to create that crispy caramelized exterior we all know and love. Make sure to double the oil amount and use at least 2 tablespoons of sugar in your recipe. If the instruction on your pancake mix does not call for added oil add at least 1 tablespoon of oil.
Making the batter and baking the waffles
Once you've gathered all your ingredients together, put the required qualities in a mixing bowl and combine them together. Do not over mix otherwise, that will draw out the gluten and make the waffles chewy. Leaving a few small lumps is acceptable.
Ensure your waffle iron is at the correct temperature setting and preheated. To check whether it is at the correct temperature you can wet your fingers with water and flick some onto the cooking plates. If the drops of water immediately sizzle and turn to steam the plates are hot enough.
Before adding a ladle of batter to the waffle iron grease the cooking plates with canola oil or melted butter. I prefer butter since I think it adds extra depth to the flavor of the crust.
Once the plates are greased add a ladle of batter to the center of the waffle iron. Do not overfill the plates since that could lead to some of the batter oozing out from the sides as the waffles bake. Don't be tempted to open up the waffle iron too soon, otherwise, your waffle is likely to stick to the plates and tear apart as you open the two halves of the waffle iron. You'll know it is too soon to check your waffle if plenty of steam is still escaping from the sides of the waffle iron.
After a few minutes of cooking the waffle should be a golden color and you can remove the beautiful festive waffles from the iron. Place the cooked waffle on a plate and add your favorite toppings for a perfect Thanksgiving breakfast. If you need some suggestions on what to serve with your Pumpkin Waffles keep reading, I'll give a few suggestions in just a moment.
What To Serve With Thanksgiving Pumpkin Waffles
If you haven't had pumpkin waffles before, you might be wondering what to serve with them. Really, with savory and sweet options, the possibilities for toppings are endless.
Like with any waffle, butter and syrup are excellent toppings and complement the pumpkin flavor well. However, if you're feeling adventurous, here are some fun topping combinations you could try:
Candied pecans or toasted walnuts
Cream cheese and maple syrup
Almond butter
Sour cream and chives (for a savory option)
Brown sugar and apples
A fried egg
You could even turn them into a dessert with a scoop of vanilla ice cream or serve them paired with a warm glass of homemade cider. No matter what you top them with, these Thanksgiving waffles are sure to be a treat!
Can Pumpkin Waffles Be Made Ahead of Time?
One of the wonderful things about waffles is how easy they are to store. If you've got a lot of cooking to do on Thanksgiving Day, chances are you are not looking to add more work to your plate. Luckily, these pumpkin waffles can be made ahead of time and reheated the next day with ease.
You could even store the leftovers in the freezer and pull them out in the coming weeks for an easy-to-grab breakfast. Who says Thanksgiving leftovers are reserved for turkey scraps? Just pop them in the toaster, and you're good to go.
Final Thoughts
Hopefully, this gave you some ideas on how you can serve pumpkin waffles on Thanksgiving morning. Even if you're running short on time, just make some the day before and give them a quick reheat before serving. Waffles are so versatile and can be adapted to fit almost any occasion. Whether you've only got a box of pancake mix on hand or a slew of ingredients in the kitchen, you can easily create a dish worthy of raving about at large family gatherings.
Need a new waffle maker? See the excellent choice on Amazon
Tosh learned how to cook while watching his Polish Mom at home. He also worked in a family-owned restaurant while a student and learned much from the chefs. Cooking has always interested him, especially the hearty Polish recipes he learned from his mother. He has helped create and appeared on cookery shows on radio stations in Scotland.
Recent Posts